News story
Global Summit: Information for visitors
Information for visitors attending the Global Summit to End Sexual Violence in Conflict.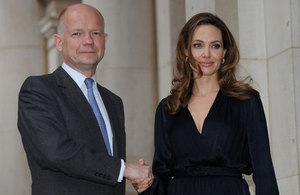 What is the summit?
The End Sexual Violence in Conflict Summit is the largest meeting ever held on this issue. Governments, civil society, the media, military, judiciary and the public will attend. We want to see practical steps agreed at the Summit that will drive change on the ground: shattering the culture of impunity that surrounds these crimes; providing more support to victims; shifting the stigma of shame from victims to perpetrators.
Is there a programme for each day of the Summit?
Day 1 (10 June) will be Youth focused; Day 2 (11 June) is aimed at Experts and Officials; and Days 3 and 4 (12-13 June) will be Ministerial-led sessions. The Summit will end at lunchtime on Friday 13 June. The Summit Fringe is open to the public on Tuesday 10, Wednesday 11 and Thursday 12.
View a full programme of free public events in the Summit Fringe or download a PDF version.
How can the public participate?
The Summit Fringe will be open for everyone, admission is free and members of the public do not need to book in advance if they wish to attend. The Summit Fringe dates are Tuesday 10, Wednesday 11 and Thursday 12 June. Fringe activities will include film showings, theatre performances, photographic exhibitions and panel discussions which will explore the issue of sexual violence in conflict and wider related issues. For the latest news on the Summit including Fringe events, you can subscribe to email updates and follow us on Facebook and Twitter @end_svc.
Is there funding for participants to attend from abroad?
We are not funding individuals' travel to the Summit, government delegations and participants will fund themselves. We are working with a limited number of civil society organisations from key countries to facilitate attendance.
Published 16 April 2014