World news story
British Embassy Bangkok hosts seminar on illegal wildlife trade
UK Embassy in Bangkok hosted the 'Global Challenge' seminar bringing together local partners in the fight against Illegal Wildlife Trade (IWT).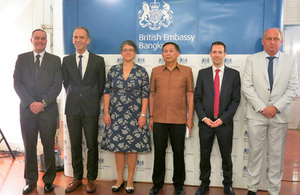 Over the past decade, IWT has become a serious criminal industry fueled by corruption, which has damaged economic growth and sustainable development, undermined good governance and the rule of law across the world, including here in Thailand and elsewhere in Southeast Asia. This growing multi-billion pound shadow market demands a global focus and response to tackle it.
The British Embassy in Bangkok recently organised a "Global Challenges" seminar on the theme of "Combating the Illegal Wildlife Trade" at the Ambassador's Residence with key local and international partner agencies to share perspectives and develop recommendations on how to collaborate ever closer in ending wildlife crime and to implement the ivory ban.
The seminar was organised in the lead up to the 2018 London Conference on the IWT in October to highlight illegal wildlife trade as an urgent global issue. The conference will focus on three themes:
tackling IWT as a serious organised crime
strengthening end-to-end law enforcement and addressing associated corruption
building more coalitions by engaging the private sector, NGOs and academia and closing markets for illegally traded wildlife products
Speaking at the seminar, Mr. Sam Myers, the Head of Global Economic Issues Department in Foreign and Commonwealth Office, spoke about UK's commitment to working with Thailand and international partners to tackle the growing problem of IWT after returning from a visit to see how UK money has supported work in Thailand's Khao Yai National Park.
The project supported Freeland, a local NGO, to work with Thai authorities and Park rangers on the ground to introduce new counter poaching measures. This developed the capacity of national park rangers to monitor and respond to threats so they could improve the protection of key wildlife species and, a park management system using SMART software training to help improve a standard for park-based reporting and an outreach activity to raise greater awareness of IWT in and around Thailand's Dong Phayayen-Khao Yai Forest Complex.
Other participants at the seminar included the Director of the Thai CITES Bureau from the Department of National Park, Wildlife and Plant Conservation. Representatives from the Ministry of Natural Resources and Environment updated participants on the progress of wildlife legislation and measures to implement and enforce a domestic ivory ban. Meanwhile, leading NGO partners, including WWF-Thailand, Freeland and the Wildlife Friends Foundation exchanged ideas about their work in Thailand and suggested that more commitment was still needed to stop wildlife crimes and to enforce the domestic ivory ban in Thailand and the region.
The UK remains committed to working with Thailand and international partners to tackle the growing problem of the Illegal Wildlife Trade.
The seminar is one in a series of Global Challenges Seminars, hosted by the British Embassy in Bangkok, to provide a local audience with an opportunity to hear different perspectives on an important issue.
Published 28 May 2018