News story
Global agreement reached on ending violence against women and girls
Uk welcomes positive outcome.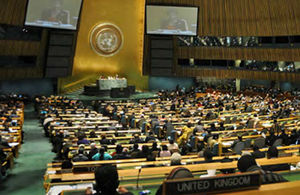 Following months of intense lobbying and two weeks of challenging negotiations, the Ministers for Women and Equalities, Maria Miller, Helen Grant and Jo Swinson along with Ministerial colleagues in the Department for International Development (DFID) and Foreign and Commonwealth Office (FCO) are delighted that the 57th Session of the UN Commission on the Status of Women (CSW) which focused on the elimination and prevention of all forms of violence against women and girls as its priority theme, culminated in the adoption of Agreed Conclusions (the principal outcome document of the Commission).
This focused on the need for global action to end violence against women and girls and calls for increased attention and accelerated action on:
Prevention through education and awareness-raising;
Addressing gender inequalities in the political, economic and social spheres;
Protection of sexual and reproductive health services; and
Improvement of the evidence base and availability to inform an effective response.
After last year's disappointing outcome, this global unified agreement sends a clear message that violence against women and girls, in all its forms, is unacceptable and advancing women's rights remains a key priority for the global community.
The UK is firmly committed to pushing forward global and national action to stop gender-based violence and has been highly commended for its leadership role in inspiring other governments and delegations to agree this common set of global standards. Maria Miller met this week with NGOs from across the UK to discuss our robust programme of engagement with UK civil society, women's advocates and the international community which we hope contributed to last week's momentous agreement.
We look forward to building on this year's success as we begin our preparations and shift our focus to next year's session which will examine as its priority, the challenges which still face us in the implementation of the Millennium Development Goals (MDGs) for women and girls.
Further information
Published 22 March 2013