News story
Give to a good cause you love! Government supports #GivingTuesday
Minister for Civil Society visits Small Acts of Kindness and sets out ways giving can be encouraged.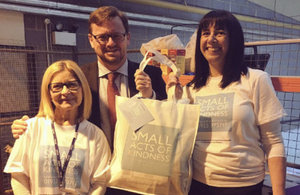 A social enterprise in Watford that helps lonely and isolated people in Hertfordshire was visited today by Minister for Civil Society Rob Wilson to celebrate #GivingTuesday.
'Small Acts of Kindness' sources and hands out gifts to older people in Hertfordshire including 'warm in winter' gift packs that include blankets, thermal socks and hot drinks to help older people in the community.
Rob Wilson also presented the Prime Minister's Points of Light Award to the organisation's founder Lynne Misner.
Giving Tuesday is a global day of giving that follows the Black Friday sales and Cyber Monday's online shopping activity. It shifts the emphasis to giving, and last year broke the world record for the most amount of money donated online in 24 hours.
Government is proud to support the movement and the Minister for Civil Society has called on as many people as possible to join the celebrations and donate to a good cause.
Watch Rob Wilson's message in support of Giving Tuesday:
Giving Roundtables
The Minister has also announced how Government will take forward the conclusions of a series of Giving Roundtables coordinated by Government. These discussions brought together experts from across civil society, business and academia to look at how giving can be further encouraged.
At the launch of the Roundtables in July, the Minister committed up to £1 million to take forward ideas that develop our culture of giving.
Read more about #GivingTuesday and ways to support it. You can also support the movement on social media by following @givingtuesdayuk and use #GivingTuesday to share the message with your followers.
Read Rob Wilson's recent blog looking ahead to #LocalCharitiesDay on 16 December
Published 29 November 2016