Girls & women: New education project to transform lives
The UK announced a new education project which will help 89,000 girls in Mozambique and Ethiopia gain an education and improve their life chances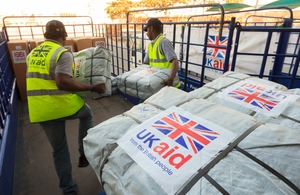 The Deputy Prime Minister Nick Clegg today announced a new education project which will help 89,000 girls in Mozambique and Ethiopia gain an education and improve their life chances.
Women are the key to economic growth and investing in girls' education is the single most effective thing we can do to break the cycle of poverty, Deputy Prime Minister Nick Clegg said on a visit to Mozambique and Ethiopia this week. Today he launched the first project from the Department for International Development's pioneering Girls' Education Challenge Fund, the largest, most ambitious project of its kind in the world.
The Fund will help 89,000 girls in Mozambique and Ethiopia get a decent education by boosting literacy, training teachers and even training bus drivers to provide safe school transport.
Visiting 'A luta continua' primary school in Mozambique this morning, Nick Clegg, Deputy Prime Minister, said:
African women should be driving  economic growth, not be driven into poverty and dependency. From what I have seen today, I'm convinced that giving girls a good education is the single most effective thing we can do to break the cycle of poverty.

Africa's recent economic success - growth rates from five to seven per cent - owes much to its women. Sustaining and increasing the pace of growth will depend on them too.

Projects such as this one are getting girls into good quality education and are vital to help African women escape poverty, disease and domestic violence. The girls I have met here are enthusiastic, committed and dedicated to learning. They are clearly the key to unlocking Africa's potential.
Lynne Featherstone, International Development Minister, said:
It is completely unacceptable that girls and women continue to bear the overwhelming brunt of global poverty. This gross inequality is holding them and their societies back unfairly.

These pioneering projects are proof that investing in girls and giving them the education they need to grow and prosper will help pull them out of poverty for good.

I hope that these projects will help thousands of girls to fulfil their full potential and create a brighter future for their country.
An extra year in primary school boosts a girl's eventual wages by 10 to 20 per cent. An extra year of secondary education can add 25 per cent. In Mozambique, one in three girls do not reach grade 5 (age 10/11) of primary school, and only one in four get into secondary education. In Ethiopia, fewer than one in six girls go to secondary school.
The benefits of an education are far-reaching, extending beyond girls' potential income in the workplace. Girls who are educated are more likely to marry later. They are more likely to get themselves and their babies immunised against fatal diseases and those who have a secondary education are three times less likely to be HIV positive.
Aims of the Girls' Education Challenge in Mozambique and Ethiopia
In Mozambique, funding from the Girls' Education Challenge will help more than 39,000 girls, many of whom would not otherwise have the opportunity to attend school. Education kits will be provided to help girls attend primary school and partnerships with the private sector will be developed to offer bursaries for girls in secondary school. The work is far-reaching and includes community-led radio programmes to be broadcast in ten districts - addressing the widespread cultural misperceptions on girls' education. Work is also being done to make sure that girls have safe access to education and do not suffer sexual violence in schools and girls' clubs are being established to provide mentoring and homework support to thousands of girls. There is also a significant element of training - giving more than 800 head teachers and other staff, including teacher trainers, coaching on gender-equality and training on how to boost literacy.
In Ethiopia, the Girls' Education Challenge is launching two new programmes that will get 50,000 girls into school, in remote areas of Ethiopia. The programmes will focus on innovative techniques such as focusing on local languages, using radio to encourage parents to send their children to school and seeking to involve the private sector. The two projects in Ethiopia, which amount to £11 million of UK funding, complement the Department for International Development's existing programmes which support around one in ten primary school teachers in rural areas of Ethiopia.
Published 14 February 2013