George Clarke appointed empty homes adviser
Architect to lead efforts to bring empty homes back into use Architect and TV presenter George Clarke is to be an independent adviser to the…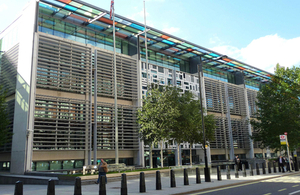 Architect to lead efforts to bring empty homes back into use
Architect and TV presenter George Clarke is to be an independent adviser to the Government to help bring thousands of empty homes back into use for families in need of stable, secure homes, Ministers announced today.
Although the numbers of empty homes have fallen to their lowest level since 2004, there are still 720,000 homes sitting empty across the country - with 280,000 left vacant for six months or more.
Ministers have already announced £150 million to bring empty homes back into use as affordable housing - including £50 million to tackle clusters of empty homes.
George Clarke presented Channel 4's recent series of programmes, The Great British Property Scandal. His work as independent adviser on empty homes will particularly involve:
promoting bringing empty homes back into use
raising public awareness of the benefits of bringing empty homes back into use and encouraging people to report empty homes in their area
encouraging councils, housing associations and voluntary groups to identify innovative and good ideas and sharing this across communities
challenging Government and other public bodies to ensure publicly-owned homes are not left empty; and
exploring whether current plans for demolition in councils could be scaled back.
Communities Minister Andrew Stunell said:
I am delighted that George Clarke has agreed to work with us as we pull out all the stops to end the national scandal of empty homes.

For every two families needing a home, there's a property standing empty - properties that, all too often, attract squatters, vandalism and fly-tipping. That's why over the past year, I've made £150 million available to bring these homes back into use.

George's appointment as our independent adviser on this issue will give these efforts a real boost, and I look forward to seeing how communities benefit from his help and advice, and seeing more families benefiting from a secure, stable home as more empty properties are brought back into use.
Independent Empty Homes Adviser George Clarke said:
There are hundreds of thousands of empty homes that could and should be saved from the bulldozers and refurbished.

I totally support the building of new homes when it's necessary but not when it's cheaper and quicker to refurbish empty homes than to build from scratch. It can be kinder to communities and the environment - and it makes sense in these tough economic times.

I care passionately about this subject and I'll leave no stone unturned in my efforts to find a solution to the problem and get these houses back into use for the families who need them.
Housing Minister Grant Shapps said:
George Clarke has been a phenomenal campaigner against the scourge of Empty Homes. His popular Great British Property Scandal programme raised the issue up the agenda. I'm pleased to report that the number of empty homes has fallen in the two years since this government came to office. Now we hope to accelerate that work further with £150 million of investment and George Clarke as our Empty Homes Adviser.
Notes to editors
Ministers have made £150 million available to communities to bring empty homes back into use. This is comprised of:
£70 million for councils to bring over 5,600 empty homes back into use

£30 million for community groups; and

£50 million to tackle clusters of empty homes.
Twitter
Keep up to date with the Department by following us on Twitter (external link).
Media enquiries
Visit our newsroom contacts page for media enquiry contact details.
Published 11 April 2012