News story
GDP rises by 0.8 per cent: economy heading in the right direction
UK economic output rose by 0.8% between July and September, official GDP figures show.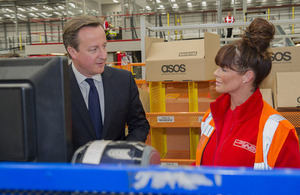 This third quarter figure builds on a 0.7% GDP rise in the previous quarter, and is the best quarterly performance since 2010.
Responding to the news at the European Council, Prime Minister David Cameron said:
The priority for my government is the economy: getting the economy moving, getting jobs created, getting businesses going, making sure Britain is a success and helping people to fulfil their aspirations. I think the GDP figures out today – they do show our economy has real momentum. They show that we are on a path to prosperity.
We've got a huge amount more to do to secure that recovery, and above all, our work here in Europe and at home is about making sure it is a recovery for all: a recovery for north and south, for rich and poor, for people who have been excluded from our economy. And that is why we put so much emphasis in our economic approach on education, and training and apprenticeships, and also on welfare reform so people who have been excluded from our economy, or people who don't have the training and education to take part in a successful economy, can take part. That is what we are aiming for: a recovery for all. But good news from those statistics today.
Chancellor George Osborne said:
Today's GDP figures show that Britain's hard work is paying off and the country is on the path to prosperity. Many risks remain, but thanks to our economic plan, the recovery now has real momentum. All parts of the economy are growing, the deficit is falling and jobs are being created - and that's the only sustainable way to raise living standards for hardworking families.
Yesterday the Prime Minister visited ASOS in Barnsley to see an example of UK growth. Speaking on the visit, he said:
ASOS is a real success story and now employs over 3,000 people in this area. This demonstrates that there are jobs, businesses and expansion coming to this area. We want to make sure that everyone can take part in a growing economy.
Published 25 October 2013