Press release
GCSE results show rise of academic subjects
There has been a rise in the number of GCSE entries in the English Baccalaureate (EBacc) subjects.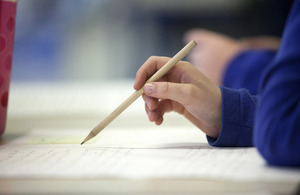 GCSE results published today by the Joint Council for Qualifications (JCQ) show there has been a rise in the number of GCSE entries in the EBacc subjects - the rigorous, academic subjects highly valued by employers and universities.
The EBacc was announced by the government in autumn 2010. This is the first year that students' choice of subjects will be reflected in the results. Pupils achieve the EBacc if they get GCSEs at grades A* to C across a core of academic subjects - English, maths, history or geography, 2 sciences and a language.
The effects of the EBacc are shown in today's GCSE results. The decline in languages has been reversed with the number of entries to language GCSEs now at a 5-year high. The number of entries to history is at its highest for at least 16 years, while the number of geography entries is at its highest for 9 years.
There is also a record number of entries in biology, chemistry and physics as increasing numbers of pupils enter exams in the separate sciences rather than in core and additional science.
Education Minister Elizabeth Truss said:
Today's results show that the EBacc has not just arrested the decline in the study of academic subjects at GCSE – it is reversing it.

It is very pleasing to see the increase in these important subjects – the ones that will keep pupils' options open in the future. I am particularly delighted to see a languages revival – with an increase in the number of entries to French, German and Spanish GCSEs after years of decline.

The EBacc is the platform for young people to go on to A levels and high-quality vocational study. It will help them compete with their peers in the world's best education jurisdictions, where they are expected to study a rigorous academic core.
Languages – highest for 5 years
the number of entries to modern language GCSEs is up 15.8%, from 313,432 last year to 362,903 this year
this is the highest number of entries since 2008
compared to last year, French entries are up 15.5%, German entries up 9.4% and Spanish entries up 25.8%
the EBacc has reversed successive annual falls in the number of entries to modern language GCSEs since 2002. Modern languages became optional at key stage 4 in 2004
Sciences – record numbers entering separate sciences
the number of entries in the 3 individual sciences is at its highest in more than 16 years in England
compared to last year, biology entries are up 5%, chemistry entries are up 4.4% and physics entries up 2.1%
at the same time, the number entering 'additional science' – required for the science dual award – fell by 2.3%
History – highest for at least 16 years
the number of entries to history GCSEs increased by 16.7%, from 222,983 last year to 260,236 this year
this is the highest number of entries in history since at least 1997 in England
Geography – highest for 9 years
the number of entries to geography GCSEs leapt by 19.2%, from 187,022 last year to 222,852 this year
this is the highest number of entries since 2004
Other subjects
ICT (includes computing which will become part of the EBacc in 2014) up 38.1% (from 53,197 in 2012 to 73,487 in 2013)
business and communication systems down 7.2% (from 15,603 in 2012 to 14,482 in 2013)
home economics down 4.8% (from 36,694 in 2012 to 34,931 in 2013)
media/film/TV studies down 4.2% (from 61,680 in 2012 to 59,114 in 2013)
DfE enquiries
Central newsdesk 020 7783 8300
General enquiries 0370 000 2288
Published 22 August 2013