G-Cloud celebrates first birthday on a high
The G-Cloud, launched 1 year ago, offers a more innovative and cost-effective model for buying IT; CloudStore 3 will go live in the spring.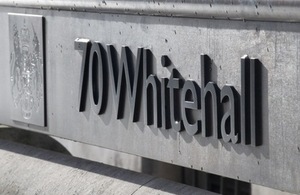 G-Cloud is proving itself the model of an innovative, more cost-effective and open way for the government to buy and operate IT, making it easier for companies of all sizes to compete for public sector business, Minister for the Cabinet Office Francis Maude said today as the programme marks its first anniversary.
A third iteration of CloudStore is on its way and will be launched in the spring.
Since February 2012, when the first supplier framework went live, public sector organisations have been able to purchase a wide range of best-of-breed IT commodity services from the online catalogue in the government's CloudStore on a 'pay-as-you-go' basis, rather than having to develop and run their own systems and infrastructure. This revolution in the way government can use IT services - on demand and on a utility basis - provides greater flexibility and choice, and will drive delivery of public services that are better value and more responsive to changing needs.
In its first 12 months, G-Cloud has produced two supplier frameworks for cloud-based services, and applications for the third close on 28 February. There are 459 providers on the second framework, about 75% of them SMEs, offering more than 3,200 services, such as hosting, storage, email, document management systems, collaboration tools, virtual desk-tops, accessible from public, private and hybrid cloud models.
To date, there have been more than 200 purchases of IT services through the CloudStore, totalling more than £6m. Of this spend, 61% (more than £4.6m) has been with SMEs.
Construction of a third iteration of CloudStore, applying the lessons of the first two and acting on feedback from suppliers and public sector customers, is about to begin. CloudStore 3 is expected to go live in the spring, together with improved guidance, support and resources to help suppliers and buyers make full use of the framework and the cloud.
Minister for the Cabinet Office Francis Maude said:
In just 12 months, G-Cloud has shown itself to be a model for efficient public sector IT procurement, establishing a dynamic marketplace for cloud-based IT services. We have simplified the procurement process through G-Cloud to make it more accessible to a wider range of companies, leading to more choice, better value for the taxpayer and growth for the economy. Suppliers are asked what they can offer government, rather than being issued with complicated specifications that stifle innovation.

This is the way we want government IT to be - simpler, quicker, cheaper and focused on matching solutions to business requirements, reducing waste and cutting costs.
G-Cloud Programme Director Denise McDonagh said:
I am convinced that G-Cloud is a game changer for the way government buys, manages, delivers and operates IT, and interacts with suppliers, driving improved productivity, greater efficiencies and better value services for the taxpayer.

The move to purchasing IT services as a commodity requires a culture shift for the public sector that won't happen overnight. After only a year, though, most big government departments have bought services from the cloud, and there is significant buy-in from local government. Evidence of the benefits of cloud is growing all the time, and we are working with buyers to help them adapt to commodity-based IT purchasing.
Notes to editors
Cloud-based services cover: infrastructure as a service, platform as a service, software as a service and associated specialist cloud Support Services. The new service areas covered by the new (third) framework are:
accessibility tools
end user device services
agile tools
anti-spam & capcha services
gamification
learning management
simulation & training
Published 19 February 2013