News story
Further consultation on equal pay audits launched
Equal pay audits will help tackle gender pay inequality in the workplace.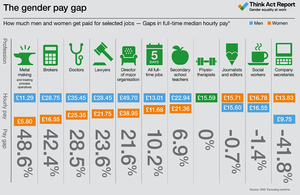 Today the government has published a second consultation asking businesses about their views on the detail of equal pay audits and the likely contents of impending legislation.
Following the Modern Workplaces consultation in 2011, the Government announced that it would implement a proposal which will require employment tribunals to order an employer to conduct an equal pay audit where the employer is found to have broken equal pay law.
Minister for Women and Equalities Jo Swinson said: "We want to eliminate inequality between men and women in the workplace and if we are to make full use of women's skills and talents, we need to create more inclusive workplaces, which includes tackling the gender pay gap.
"Only employers who have breached the law will be ordered to carry out equal pay audits, so there will be no upfront burdens on business. It is important to deal with breaches of equal pay law if we are to make a change."
Equal pay audits will complement our Think, Act, Report initiative, which encourages companies to report on action to improve gender equality in the workplace, including pay.
It is hoped the equal pay audit regulations will come into force in 2014.
Further information
Published 23 May 2013