Funds to improve housing for people with learning disabilities
The local authorities awarded a share of £25 million housing and technology fund for people with learning disabilities have been announced.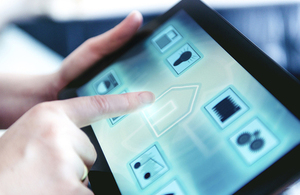 People with learning disabilities will benefit from £25 million of funding to help them live more independently in their own homes. The fund aims to improve their quality of life by giving them independence, and helping them feel more included in their local community.
The successful bids of the £25 million housing and technology fund have been announced today (Tuesday 20 December) by Health Minister David Mowat.
The local authority projects will focus on adapting existing housing, creating new accommodation and giving people support so they have more independence and choice.
Only 15% of adults with learning disabilities in England have a secure long-term tenancy or their own home. The Department of Health aims to address this by supporting projects, including shared ownership schemes, adapting existing properties with new technology and building new technologically adapted homes.
Minister for Community Health and Care David Mowat said:
I want to offer my sincere congratulations to the successful projects. We had a fantastic response to our call for bids and I'm delighted that the innovative ideas put forward will now become a reality. I want to thank the bidders for their dedication to improving the lives of people with learning disabilities in their community and wish them all the best in bringing this important project to life.
The main aims of the fund are to:
prevent unnecessary in-patient admissions, including solutions for people who need urgent housing and are at risk of entering inappropriate services like hospital or residential care
encourage community-based solutions which promote independence and choice over housing
make use of new technologies and other bespoke adaptations to improve and adapt existing accommodation
save money by reducing the need for costly hands-on care
The allocation of the funding to local authorities, 52 projects across England, is a step towards achieving the government's aim for safe, reliable and innovative alternatives to inpatient care for people with learning disabilities.
The funds were allocated by an expert steering group based on the criteria specified in the application.
The funding will be made available to successful bidders over the next 2 financial years.
This funding allocation follows the announcement of the funds made on the 15 September 2016, you can also view the application pack and criteria for the housing and technology fund.
The 52 successful bids:
| Local authority/council | Total funding (£) for financial years 2016 to 2017 and 2017 to 2018 |
| --- | --- |
| Essex County Council (5 projects) | 1,595,000 |
| Thurrock | 459,600 |
| Herefordshire Council | 285,500 |
| Dudley | 16,184 |
| Lincolnshire County Council | 65,000 |
| North Lincolnshire Council | 610,100 |
| North East Lincolnshire Council | 650,000 |
| Shropshire | 2,415,000 |
| Northamptonshire County Council | 30,447 |
| City of Wolverhampton | 207,000 |
| Staffordshire County Council | 372,000 |
| Nottinghamshire County Council | 520,000 |
| Telford and Wrekin | 550,300 |
| Blackpool | 645,000 |
| Durham | 70,350 |
| Northumberland | 7,140 |
| Newcastle | 418,000 |
| Stockton | 202,000 |
| Sunderland | 297,546 |
| Salford | 128,500 |
| Sheffield | 228,000 |
| Wakefield | 400,000 |
| Cheshire West | 200,00 |
| Halton | 520,000 |
| North Tyneside | 527822 |
| Wigan | 500,000 |
| Kingston upon Hull City Council | 1,244,889 |
| Enfield | 730,688 |
| North Central and Camden | 704,000 |
| Isle of Wight | 475,000 |
| Bournemouth | 320,000 |
| Bristol | 240,000 |
| Kent County Council (2 projects) | 595,000 |
| North Somerset Council | 213,000 |
| Bath and North East Somerset | 456,800 |
| Slough (3 projects) | 1,355,600 |
| Somerset County Council (2 projects) | 1,183,900 |
| Surrey County Council | 690,000 |
| Swindon Borough Council | 340,000 |
| Gloucestershire County Council (3 projects) | 1,834,000 |
| Cornwall | 1,950,000 |
| Dorset County Council | 251,685 |
Published 20 December 2016