News story
Funding for roll-out of Individual Electoral registration
The government has released the breakdown of funding for local authorities for the transfer to the new electoral register.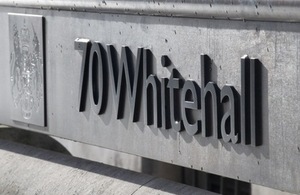 Local authorities across the UK have been given extra money to help pay for a groundbreaking change that will make the Electoral Register more accurate and secure, and, with the introduction of online registration, make the process of registering to vote more convenient.
Although local authorities are expected to fund the switch to Individual Electoral registration (IER) from their existing elections budgets, the government has always acknowledged that such an important change means there will be extra costs involved.
A national formula has been used to calculate what each area needs to cover the cost of the data matching process that will ensure the vast majority of the population will transfer automatically onto the new electoral register without taking any action, as well as other costs such as writing to people to tell them they will need to register.
Greg Clark, Minister for Cities and the Constitution, said:
We are on track to modernise electoral registration to increase public confidence in our elections, which is at the heart of our democracy.

Next year's switch to individual electoral registration can only be achieved by central and local government working together in partnership with open dialogue,to support each other with this pivotal transition.

The funding we have announced today is the latest step in that process, and we look forward to working even closer with local officials to make sure our electoral register is as complete and accurate as it can be.
The new system of registering to vote will mean an end to the current forms, where the 'head of the household' fills in the names of everyone eligible to vote. Next summer everyone will take individual responsibility for registering and online registration will be available, making registration more secure and convenient.
Most people will not have to do anything when the new system comes in thanks to the process of "data matching", where the current electoral register will be matched against other public databases. A dry run of the system carried out across the country over the summer suggested that an average of 78% of people will be matched in this way and will automatically remain on the electoral register. The rest will receive a letter and a visit from local authorities during the canvass.
Published 31 October 2013