Press release
Friends of Yemen reject the payment of ransoms to terrorists
Foreign Office Minister for the Middle East Alistair Burt welcomes step that will starve Al Qaeda of access to funding.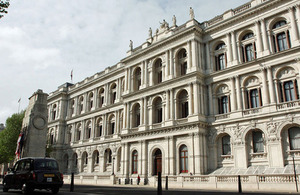 Speaking in New York today, where he co-chaired the Friends of Yemen conference, Mr Burt said:
Al Qaeda in the Arabian Peninsula (AQAP) aims to destabilise the Government of Yemen and its security forces. Its ability to do so is significantly enhanced by funding gained through large ransom payments for foreign national hostages. We estimate that in the last two years AQAP has received almost US$20 million in ransom payments. Should this continue, AQAP's attack capability in Yemen and against its friends and neighbours will only strengthen. "Many Friends of Yemen members in this room have experienced the kidnap of their nationals overseas, and know the terrible impact kidnaps have on individuals and their families. But they also know that making concessions to terrorists, including through ransom payments, serves only to fuel the problem and increases the risk to our nationals.
That is why members of the G8, many of whom are here today, took the unprecedented step at the G8 Summit in Lough Erne to unequivocally reject ransom payments to terrorists. Similar action to reject ransoms to terrorists by Yemen and its friends, who are committed to Yemen's recovery, will starve AQAP of access to the funding it relies on to exist.
Further information
Follow Foreign Office Minister Alistair Burt on twitter: @AlistairBurtFCO.
Follow the Foreign Office on twitter.
Follow the Foreign Office on facebook & google+.
Published 25 September 2013