'Friends and family' test aims to improve patient care and identify best performing hospitals
An NHS 'friends and family' test to improve patient care and identify the best performing hospitals in England has been announced by Prime Minister…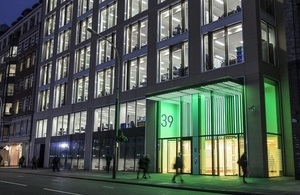 An NHS 'friends and family' test to improve patient care and identify the best performing hospitals in England has been announced by Prime Minister David Cameron.
From April 2013, patients will be asked a simple question: whether they would recommend hospital wards, accident and emergency units to a friend or relative based on their treatment.
Publishing the answers will allow the public to compare healthcare services and clearly identify the best performers in the eyes of patients - and drive others to take steps to raise their standards. The test will be developed with local hospitals and GPs, including any exclusions to the test, like patients in intensive care, while ensuring that the vast majority of wards are covered.
NHS staff are already asked in an annual survey to find out if they would be happy for their friends and family to be treated at the place they work.
In an open letter to the Prime Minister today, the Nursing Quality Care Forum, which was launched in January to identify and share best nursing practice, recommended the friends and family test alongside a number of other proposals after consulting frontline nurses, care staff and patients.
The Forum's recommendations include:
roll out across the NHS of the friends and family test for patients, in a way that allows organisations to gain feedback in real time, at all levels
a call for action to increase the number of staff who would be happy to recommend the quality of services that their trust provides if their own loved ones needed care
making sure nurses are recruited for their caring nature and compassion as well as their knowledge and skills
calling on organisations to look at how nurses and their teams could use technology to free up more time to care and avoid patients being asked the same questions again and again
improving training for nurse leaders to give them more independence and authority
nurse leaders, whether ward or community based, should have time to lead and be accountable for their clinical area.
Prime Minister David Cameron said:
'Nurses are the beating heart of our NHS. The kindness, gentleness and calm they provide are completely invaluable to the millions of people they look after each year. To me, nothing matters more in our NHS than the quality of that care - and no one knows better how to improve it than nurses themselves.

'That's why we set up the Nursing Care and Quality Forum: to find out what works best on the wards; to share that knowledge; to lead an improvement in standards from the bottom up. I'm delighted to see the progress the Forum has already made.

And to really make sure that patients get the right care, we're moving ahead quickly on one of their main recommendations: the friends and family test. In every hospital, patients are going to be able to answer a simple question: whether they'd want a friend or relative to be treated there in their hour of need. By making those answers public we're going to give everyone a really clear idea of where to get the best care - and drive other hospitals to raise their game.'
Forum Chair Sally Brearley said:
'The friends and family test is a useful way for staff to look at their place of work, and for patients to look at the quality of care they receive, and for them to judge whether they would be content for a loved one to use that service, should they need treatment.

'Our initial recommendations to the Prime Minister highlight the good work which many are already doing to ensure that nursing and care is of the best quality, and we want others to benefit from these lessons. The forum will now work with others to help make these ideas a reality and to continue to highlight good practice in nursing and care.'
The Prime Minister also revealed plans to roll out the NHS Safety Thermometer. It provides nurses with a simple template to check basic levels of care, identify where things are going wrong and take action. During a pilot across 160 NHS organisations last year, the national data showed an overall reduction in blood clots by 72%, pressure ulcers by 42% and urinary infections in patients with catheters by 33%.
Pressure ulcers, falls, urinary catheter infections and blood clots are among the most common preventable problems in hospitals and care homes and cost the NHS up to £1 billion every year. At least 200,000 patients experience one or more of these problems while being treated.
Published 25 May 2012