Fridge supplier fined £2.2 million for restricting online discounts
Fridge supplier ITW Ltd, has been fined over £2 million after breaking competition law by restricting dealers from offering online discounts.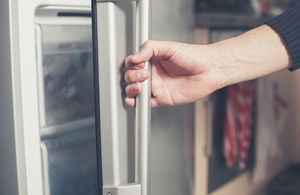 The Competition and Markets Authority (CMA) today imposed a fine of £2,298,820. This was after the initial fine was reduced by 10% for ITW Limited setting up a comprehensive programme to train its staff in compliance with competition law and a further 20% to reflect savings due to ITW's admission and co-operation with the CMA under a settlement agreement.
The CMA had issued a formal allegation against ITW in January 2016, and the business has now admitted that it engaged in resale price maintenance (RPM) in internet sales of its Foster commercial fridges from 2012 to 2014.
RPM is vertical price-fixing in which a supplier restricts the ability of a retailer to determine the price at which it will resell the supplier's products, for example by requiring the dealer to sell at a particular price or only above a minimum price. RPM is illegal because it stops dealers setting their prices independently to attract more customers. The CMA has produced guidance and a short video to help businesses understand more about RPM.
Foster Refrigerator, a division of ITW, operated a 'minimum advertised price' policy and threatened dealers with sanctions - including threatening to charge them higher cost prices for Foster products or stopping supply - if they advertised below that minimum price.
The CMA found that Foster's minimum advertised price policy constituted RPM because, by restricting the price at which its goods were advertised online, it prevented dealers from deciding the resale price for those goods. The CMA found that there is a clear link between the advertised price and the resale price when goods are purchased online.
The CMA has sent warning letters to 20 other businesses in the commercial catering equipment sector which it suspects may have been involved in similar internet sales practices. The warning letters have been sent to suppliers of commercial catering equipment that may have implemented minimum advertising price polices and also to dealers that may have agreed to apply the policies imposed by their suppliers. A warning letter does not itself mean that a company has been found to have broken competition law. However, if necessary, the CMA will also take further enforcement action against companies which participate in RPM.
The CMA has produced a series of animated videos explaining the main principles of competition law and how they affect small businesses. Any businesses that have concerns about anti-competitive behaviour can contact the CMA through an online form or on 020 3738 6000.
Ann Pope, CMA Senior Director, said:
Price competition from online sales is usually intense, given the ease of searching on the internet. ITW's practice of setting minimum advertised prices restricted dealers from offering discounted prices online, reducing competition across online and 'bricks and mortar' sales, and denying buyers the benefit of lower prices for Foster's commercial fridges. The ultimate losers are customers of restaurants or caterers, for whom the cost of their meal could have risen.

The CMA takes vertical price-fixing seriously, and recently fined a supplier of bathroom fittings for similar behaviour. We are focused on tackling anti-competitive practices that diminish the many benefits of e-commerce across all sectors.

The CMA welcomes ITW's adoption of a compliance programme which is a positive step in ensuring it does not break competition law again and which merited a discount of 10% to the penalty.
Notes for editors
The CMA is the UK's primary competition and consumer authority. It is an independent non-ministerial government department with responsibility for carrying out investigations into mergers, markets and the regulated industries and enforcing competition and consumer law. For CMA updates, see our homepage or follow us on Twitter @CMAgovuk, Flickr and LinkedIn. Sign up to our email alerts to receive updates on Competition Act 1998 and civil cartels cases.
The non-confidential version of today's infringement decision will be published on the case page in due course following the redaction of commercially sensitive information.
The CMA's initial infringement decision imposed a fine of £2,873,526. This was reduced to £2,298,820 after the initial fine was reduced by 10% for ITW setting up a comprehensive programme to train its staff in compliance with competition law and a further 20% to reflect savings due to ITW's admission and co-operation with the CMA under a settlement agreement.
Any business found to have infringed the Competition Act 1998 could be fined up to 10% of its annual worldwide group turnover. In calculating financial penalties, the CMA takes into account a number of factors including seriousness of the infringement(s), turnover in the relevant market and any mitigating and/or aggravating factors. In addition, adjustments may then be made to reflect the specific size and financial position of the business in question.
A party under investigation may ask to enter into a settlement if it is prepared to admit that it has breached competition law and is willing to agree to a streamlined administrative procedure for the remainder of the investigation. In return, the CMA may agree to impose a reduced penalty on the business where settlement would achieve clear procedural efficiencies. In this case, the penalty includes a 20% settlement discount to reflect the resource savings generated by ITW's admissions and agreement to cooperate both prior to and after the issue of the statement of objections.
Appropriate compliance activities are one of the mitigating factors which may merit a reduction in penalty. The CMA considers it is key that an appropriate compliance culture is instilled in an organisation, from the top down. It recommends that businesses use a four-step process to tackle the specific risks they face: risk identification, risk assessment, risk mitigation and review. See our Competition law compliance: guidance for businesses collection for further details.
The CMA has not imposed penalties on the dealers with whom ITW Limited entered into the infringing agreements in this case. The CMA has applied rule 10(2) of its Competition Act 1998 Rules, according to which it may address its infringement decision to fewer than all the persons who were party to the relevant agreements. Whilst the CMA has decided only to impose a penalty on the supplier in this case, dealers should be aware that they can also be fined for entering into RPM agreements with suppliers.
If you have been involved in anti-competitive behaviour, you may be able to apply for leniency and receive a reduced fine or avoid a fine altogether by coming forward to the CMA. See the CMA's guidance for more information about how to apply for leniency as well as leniency benefits, eligibility and conditions.
The CMA may send warning or advisory letters to businesses where it has concerns that they may be harming competition in their market sector. Receiving a warning letter does not mean that a company has broken the law. See Warning and advisory letters: essential information for businesses for further information.
The CMA currently has 17 cases open under the Competition Act 1998.
Enquiries should be directed to Simon Belgard (simon.belgard@cma.gsi.gov.uk, 020 3738 6472).
Published 24 May 2016