Press release
'Freedom day' for business as cuts to red tape come into force
Business Minister Michael Fallon welcomes a boost for business as dozens of cuts to red tape come into force tomorrow.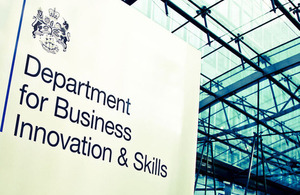 The reforms respond directly to issues raised by businesses, including through the Red Tape Challenge, which invites firms to give their views on which regulations should be improved or scrapped.
Simplifying the way firms use their assets to raise finance will save businesses over £21 million. Changes include moving registration and payment online and introducing a UK-wide registration system for the first time.
Deregulatory changes to building regulations are part of a wider package that will save business in total over £50 million per year, whilst ensuring buildings remain safe and sustainable. Reforms coming into force today include reducing administration on low-risk electrical works, and clearer, more consistent guidance on requirements for access to buildings, glazing and protection from falling.
The drive to simplify health and safety requirements continues with the removal of a raft of redundant or unnecessary regulations in areas including celluloid film, shipbuilding and ship repair.
Abolishing pointless regulations affecting the sale of goods will free up valuable time for retailers and give more clarity to consumers. The age at which Christmas crackers can be bought is being lowered from 16 to 12 - getting rid of heavy-handed government intervention in the sale of these harmless objects, and promoting greater personal freedom and responsibility.
Unnecessary regulations specifying the quantities of heavy metals in pencils, and redundant measures to prevent arsenic getting into food are also being abolished. Product and food safety is now covered by modern legislation, reflecting latest technological knowledge and ensuring comprehensive consumer protection.
The minimum consultation required for large-scale redundancies falls today from 90 to 45 days, giving employers greater flexibility to restructure but ensuring that meaningful consultation with staff takes place.
Business Minister Michael Fallon said:
Setting business free from the restrictions that hold back enterprise is a compulsory step on the road to growth. We've listened to firms and taken prompt action where regulation presents barriers - but there is a huge amount still to do.
We will quicken the pace by launching a new phase of the Red Tape Challenge this summer, focusing on key areas for growth. And I'm keeping up the pressure across Whitehall so that government always puts business before bureaucracy.
As well as cutting the overall burden of regulation, we are sharpening up how rules are enforced. We'll make sure regulation works in the public interest without stifling law-abiding firms and hampering growth.
A total of 1,500 regulations have now been identified for reform through the Red Tape Challenge - with many more still to come.
Recent measures include reducing accounting requirements for micro businesses, publishing new procedures which could halve the time for medicines to be reclassified from prescription-only to over-the-counter status and reviewing the Air Travel Organisers' Licensing scheme to ensure that it provides more effective protection for holidaymakers.
A full list of reforms coming into effect on tomorrow's six-monthly Common Commencement Date is contained in the Fifth Statement of New Regulation.
Notes to Editors
1.Red Tape Challenge reforms are already saving business over £155 million per year - with many further savings not yet quantified. The government is committed to scrapping or substantially reducing 3,000 regulations by the end of this Parliament. Lists of all regulations to be scrapped or improved by theme are available at: http://www.redtapechallenge.cabinetoffice.gov.uk/progess-to-date/
2.Budget 2013 confirmed that a second phase of the Red Tape Challenge will launch this summer. This second phase will look at the whole regulatory system – including laws, guidance, compliance, and enforcement, through short targeted reviews. The reviews will look at areas such as infrastructure, key stages in the growth of companies, and business activities where negotiating the system is overly complex. The government will seek views from business on what specific problems should be looked at before the launch in the summer of 2013. www.redtapechallenge.cabinetoffice.gov.uk
3.This year the government replaced the One-in, One-out rule with the more challenging One-In, Two-Out rule - under which departments must find savings worth double the cost of any new regulations on business. Taken together, these initiatives will save business almost £1 billion by June 2013.
4.Focus on Enforcement reviews examine how regulation is delivered – whether through inspections, advice, and enforcement – not the regulations themselves. The programme's web-site also gives individuals and businesses the opportunity to provide evidence on areas 'in focus' such as, currently, a review of childcare. Businesses can also contribute to a wider review of appeals mechanisms operated by national and local regulators. Visit http://discuss.bis.gov.uk/focusonenforcement/
5.On 8th March 2013 Michael Fallon launched two consultations to re-shape the way regulators work with business, so that upholding standards does not act as a barrier to growth and enterprise. Businesses and regulators are invited to contribute to the development of a proposed 'growth duty' for regulators - which will require regulators to take into account the impact of their activities on the economic prospects of firms they regulate. A parallel consultation seeks views on an updated Regulators' Code - which removes uncertainty for businesses by clarifying what they can expect from those that regulate them, including accessible advice and methods of enforcement that are tailored to meet the needs of the business. The six-week growth duty consultation will close on 19 April. The eight-week regulators' code consultation will close on 03 May. For more information, or to contribute, businesses are invited to visit: http://www.bis.gov.uk/brdo/publications
6.The government is working with partners across Europe to reduce the burden of EU regulation on business. Priorities for making the EU more business-friendly include persuading the Commission to publish an annual statement of the net cost of EU legislation, to help business see what burden of regulation stems from the EU; and making sure that business have an opportunity to influence EU proposals at an earlier stage. Minsters recently announced that tough new rules to end the 'gold-plating' of EU legislation have prevented Whitehall departments from adding additional red tape to EU regulation that is incorporated into UK law.
7.There are now more than 689 businesses and 100 local authorities operating one or more of 2,256 primary authority partnerships. Primary Authority enables businesses which operate within multiple local authority areas to form a statutory partnership with a single local authority, which then provides robust and reliable advice and coordinates inspections and enforcement. Subject to parliamentary process, Primary Authority is set to be extended to cover thousands more businesses operating within trade associations and franchises and there are proposals to expand the number of regulations covered by the scheme.
8.The government's economic policy objective is to achieve 'strong, sustainable and balanced growth that is more evenly shared across the country and between industries'. It set four ambitions in the 'Plan for Growth' (PDF 1.7MB), published at Budget 2011:
to create the most competitive tax system in the G20
to make the UK the best place in Europe to start, finance and grow a business
to encourage investment and exports as a route to a more balanced economy
to create a more educated workforce that is the most flexible in Europe.
Work is underway across government to achieve these ambitions, including progress on more than 250 measures as part of the Growth Review. Developing an Industrial Strategy gives new impetus to this work by providing businesses, investors and the public with more clarity about the long-term direction in which the government wants the economy to travel.
Published 5 April 2013