Press release
Free HIV home sampling launched to increase HIV testing
PHE launches first nationally available HIV kit for testing those at higher-risk as new figures show 18,100 people unaware they have HIV.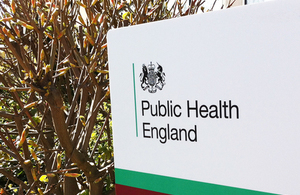 Public Health England (PHE) has launched the first nationally available HIV kit for testing those at higher-risk, alongside announcing new funding for innovative HIV prevention projects.
People at higher-risk of HIV across the country can now order a HIV home-sampling test kit online, and are being encouraged to take the simple finger prick blood sample for National HIV Testing Week, which starts on 21 November 2015. Improved treatment for HIV means those diagnosed early can have a life expectancy almost matching that of people who are HIV free.
Also released today, new PHE figures show an estimated 103,700 people in the UK were living with HIV in 2014, with around 17% (18,100) unaware and at risk of unknowingly passing on the virus to others. Among men who have sex with men (MSM), 6,500 remain unaware of their HIV infection, as do a further 3,900 men and women from black African communities.
In addition, there continues to be high levels of transmission in MSM and 3,360 MSM were newly diagnosed in 2014: the largest number ever recorded. Overall, 40% of people were diagnosed at a late stage of infection, undermining the benefits of effective therapy, and demonstrating the need for expanded testing.
The benefits of testing leading to early treatment, reach beyond the individual person, having a wider public health benefit, reducing the risk of passing the virus on to other people. Well-tailored local initiatives also have a critical role to play.
In addition to home-sampling, the government and PHE today announces 7 successful HIV innovation winners: to help turn the tide on high rates of new HIV infection in England. The HIV Innovation Fund is supporting creative prevention projects, including working with faith leaders, developing assessment tools and targeted HIV testing initiatives.
Public Health Minister Jane Ellison said:
We have made great strides in HIV treatment, and those people speaking out about their condition are helping reduce the stigma around it. But until HIV is a thing of the past, there is more to do and we need to be bold.

I want today's launch of the first National HIV Home Sampling service to encourage people at risk to find out their HIV status, using our free kits, so they can get the best care for themselves and partners. Our Innovation Fund is also identifying new ideas to tackle the problem. I hope that all those at risk will take the opportunity to get tested and help us halve new HIV infections by 2020.
Professor Kevin Fenton, Director of Health and Wellbeing at PHE said:
Despite national rates of HIV declining, it is still a growing problem within certain communities and levels of HIV testing among high risk people remain too low. The HIV home-sampling service and the HIV Innovation Fund help boost the ongoing efforts to reduce HIV infection in England.

With National HIV Testing Week approaching, I would encourage all those at higher-risk of HIV, such as men who have sex with men or people from black African communities, to seriously consider testing, especially as they are now able to order a home-sampling kit free online.
Cllr Izzi Seccombe, LGA Community Wellbeing spokesperson, said:
HIV testing is key to prevention. Evidence shows that earlier diagnosis can not only benefit personal health, but has massive public health benefits too, while saving significant sums of money for the NHS and local services.

Councils now have responsibility for public health and commissioning sexual health services. HIV testing and outreach services are a part of this, whether in GP practices, sexual health clinics or in community settings.
Public Health England press office
Background information
The National HIV Prevention Innovation Fund and the HIV Home-Sampling Service are funded by the allocation from the Department of Health to Public Health England for HIV prevention and sexual health promotion.
The HIV home-sampling project allows individuals to order a self-sampling kit, take their own sample in the privacy of their own home and return it to a laboratory for testing and results management. The national project runs from today, 18 November 2015, to 1 January 2016. From the 1 January, participating local authorities in England will continue to provide the service in their own communities, funded from their public health budget. Kits can be ordered from www.freetesting.hiv.
The National HIV Prevention Innovation Fund is funded by the allocation from the Department of Health to PHE for HIV prevention and sexual health promotion. Further information on the following 7 successful voluntary-led organisations and their projects, including quotes, is available through the PHE press office: * Trade Sexual Health for the My Sauna Online Assessment Project in the East Midlands * SXT for the interactive digital contact slip in London * NAZ for Let's stop HIV in London * Well for Living Leicester and partners for the HIV and Health at Work for HIV and Health at work - M1 Corridor Distribution centre project in the East Midlands * LGBT Foundation for the Talk and Test for Tackling late HIV diagnosis amongst MSM and Black African Communities in Greater Manchester * GMFA/SIGMA Research for My HIV Prevention Strategy Tool across England * NAZ for Testing Faith in London, Luton and West Yorkshire
National HIV Testing Week starts on the 21 November, coordinated by HIV Prevention England, promoting HIV testing for those at higher-risk.
In 2014, an estimated 107,800 people were living with HIV in the UK, 17% of whom were undiagnosed (18,100). New diagnoses among MSM have continued to rise, with 3,360 men newly diagnosed in 2014, the largest number ever recorded (up from 3,270 in 2013 and 2,860 in 2010), accounting for more than half of all new HIV diagnoses (6,151). Among the black African population, the proportion and number of people living with HIV estimated to be undiagnosed were 16% (1,500) among men and 12% (2,400) among women. www.gov.uk/government/statistics/hiv-in-the-united-kingdom.
Public Health England exists to protect and improve the nation's health and wellbeing, and reduce health inequalities. It does this through world-class science, knowledge and intelligence, advocacy, partnerships and the delivery of specialist public health services. PHE is an operationally autonomous executive agency of the Department of Health. Website: www.gov.uk/phe. Twitter: @PHE_uk, Facebook: www.facebook.com/PublicHealthEngland.
Published 18 November 2015