Francis Maude attends Meet the Buyers event
A discussion with firms from across West Sussex about making it easier for small and medium-sized enterprises win public sector contracts.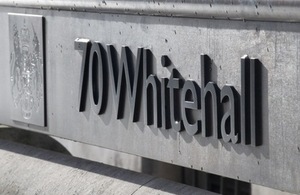 Minister for the Cabinet Office Francis Maude met with firms from across West Sussex today to discuss the government's efforts to help more small and medium-sized enterprises (SMEs) win public sector contracts.
The minister was in Crawley for Gatwick Diamond's 'Meet the Buyers' event. Based on a speed dating concept, Meet the Buyers enables local SMEs to link-up with a range of companies and local authorities who are looking for new and innovative suppliers for upcoming tenders. 131 representatives from 101 SME potential suppliers had booked appointments with the 35 buyers throughout the day.
Francis Maude, Minister for the Cabinet Office, said:
Small and medium-sized enterprises are innovative, flexible and often offer better value for money, yet it can be hard for smaller companies to get their foot through the door.

That's why events like today's Gatwick Diamond 'Meet the Buyers' event are so important; they give SMEs a chance to make informal connections with buyers, find out about emerging opportunities and pitch ideas. We have held similar events in government since 2010 and last month launched a new online tool, Solutions Exchange, which allows SMEs to connect virtually with government buyers in a similar way.

Successful SMEs are crucial to the future of this country and can save taxpayers' money with innovative new ideas. The latest available data shows that as a result of the government's radical procurement reforms, the amount of government business going to SMEs is on track to have doubled since 2010.
The government's aspiration is that SMEs get a quarter of government business, directly and in the supply chain, by the end of this Parliament. Measures taken by the Cabinet Office to help open up public procurement to SMEs include:
posting information about all contracts online
getting rid of bureaucratic pre-qualification processes for procurements below £100,000 (except where security is an issue)
giving SMEs a voice at the top table through the Crown Representative and SME Panel
making government truly accountable through the Mystery Shopper Service
More information on the Cabinet Office's Solutions Exchange tool can be found in Online tool to help smaller firms.
 
Published 12 July 2012