Press release
Online tool to help smaller firms
A new online Solutions Exchange tool will help SMEs connect with government and learn about ways to sell to the public sector.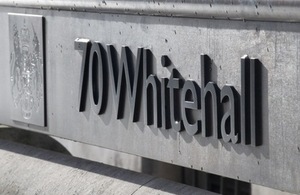 Francis Maude, Minister for the Cabinet Office, unveiled the pilot of the government's Solutions Exchange tool in Cambridge today. The online tool will particularly help SMEs connect with government and find out about potential ways to sell to the public sector or to pitch an innovative business idea.
Tendering for government business in the UK has traditionally been lengthy and expensive, with UK procurements costing twice as much as France and often shutting SMEs out. This new service will allow the government to engage the market informally before any formal procurement processes have started. It will give suppliers, particularly SMEs, a quick, free-of-charge way to pitch innovative ideas to save money and improve public services.
The tool has officially gone live today, the same day Francis Maude visited some of Cambridge's SMEs and successful entrepreneurs at an event designed to share learnings and views on government SME policy. At the event, organised by Cambridge Network, he met with a range of local businesses of varying sizes, including mobile technology specialist Bango, chemical technology specialists Owlstone and Cambridge-based Public Relations Consultancy Holdsworth Associates.
Francis Maude, Minister for the Cabinet Office, said:
I've heard time and time again from small companies that one of the hardest things about winning government contracts is breaking into government in the first place - it can feel like Whitehall is full of faceless procurers who are unaware of what smaller firms can offer. We are turning that around and Solutions Exchange offers an easy, informal way for smaller firms to find out about emerging opportunities and pitch ideas. For government it's a new way to find out what the market has to offer in advance so that we can speed up formal procurement times.

The business community in Cambridge is a powerhouse of ideas and I want to see more SMEs winning government business. I hope that the small businesses I've met today find Solutions Exchange a good way to break down barriers and to show us new ideas. We want to get feedback from SMEs on this initial pilot as we develop the service.
The tool works as an interactive online forum for businesses to communicate with government procurers. It is divided into 'challenges' and 'themes' - 'challenges' are emerging opportunities to work with government that are not yet at the formal procurement stage, while 'themes' are broader categories that allow suppliers to pitch their own innovative, cost saving, proposals direct to government. They will change every 3 months but the content will stay on the site as a searchable database for procurers looking to reach out to new companies.
Challenges include:
Identity and Passport Service Facial Recognition System - this challenge will ask suppliers how Identity and Passport Service could make better use of the facial images in its passport records to detect, prevent and discourage fraud, so that the Identity and Passport Service can better understand what the market has to offer ahead of a potential procurement process later this year
Contracts Finder data - this challenge will ask how the Cabinet Office can make better use of the data collated via its Contracts Finder website, looking for innovative proposals for the best way to exploit its data, for example, by mapping geographical or industry trends (this challenge does not have a formal procurement scheduled but the proposals will be used to assess whether this is something the Cabinet Office should fund and do)
Themes on the pilot site include:
use of data from government IT functions (ie different systems in a department or different systems in different departments): data is collected for many reasons by departments but connecting data from different sources could give us better insight, inform service delivery and provide new innovative services that save money - suppliers with ideas relating to this should use the site to alert the government to new possibilities
evaluation of government communication: the government wants to learn more about the new and innovative ways it can evaluate the impact of its communications campaigns, with particular focus on the consequence of the communications rather than simple measures of reach and impact. For example, how can low cost evaluation techniques measure "below the line" marketing activities such as events and ensure that we are getting the best value for taxpayers' money? Suppliers with ideas relating to this should use the site to alert the government to new possibilities.
Suppliers with innovative ideas can log onto the portal from today free of charge and pitch in their views, making informal business contacts with government.
Notes to editors
1. The Solutions Exchange portal can be found at: http://solutions-exchange.cabinetoffice.gov.uk/. 2. The latest available data shows that the amount of government business going to SMEs was on track to have doubled after the government introduced radical procurement reforms. In the last 2 years the Cabinet Office has worked with the business sector to abolish unnecessary paperwork and streamline bidding processes in order to make it easier for small firms to compete alongside larger companies.
Published 22 June 2012