World news story
France v Scotland travel advice
Advice for fans travelling to France for Scotland's RBS Six Nations rugby match with France on Saturday 7 February 2015.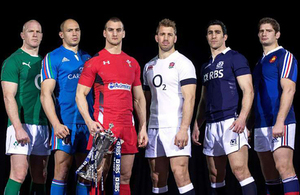 Date: Saturday 7 February

Venue: Stade de France

Kick off time: 6.00pm (local time)
As well as this advice, check out our travel advice for France.
Passports and visas
British passport holders don't need a visa to travel to France but your passport should be valid for the duration of your stay. In 2014, over 1400 British passports were lost or stolen in France – keep yours safe at all times if you want to avoid a trip to see us for an Emergency Travel Document which will set you back £95.
Getting to the stadium
If you're arriving by Eurostar, take suburban train line RER D from Gare du Nord to Stade de France – Saint Denis, or RER B from Gare du Nord to La Plaine – Stade de France. If you've travelled by air to Paris Charles de Gaulle, take RER B from Aéroport Roissy Charles de Gaulle to La Plaine – Saint Denis.
If you're driving, you must book your car park before arriving. No vehicle access will be possible if you do not have a parking ticket, and you will not be able to buy one on the spot. More information is available on the stadium website.
Thieves and pickpockets operate on the Paris underground, RER lines and at mainline stations, for example Gare du Nord. There have been several victims of serious assault on the RER line B, which serves Paris Charles de Gaulle and Orly airports and Paris Gare du Nord Eurostar terminus. There have also been serious assaults on RER line D, which serves the Stade de France.
At the match
Kick-off is at 6 PM French time, doors open at 4 PM. You should try to arrive early as access to the stadium can take some time. French police and stewards will conduct ticket checks and security screening. There is no alcohol allowed in French stadiums and a number of large items are not permitted (camera stands, motorbike helmets, large back packs etc).
Tips
Take sensible precautions against street and car crime. Don't keep your passport, credit cards and other valuables in the same place; use the inside compartments in bags where possible. Carry your bag across your body rather than on your shoulder.
Don't be distracted around tourist attractions and cash points. Pickpockets can work in gangs: one to distract you while the other one goes into your bag. Keep your belongings close to you in restaurants and bars.
Be aware of common scams used to obtain money from tourists, there are petition, 3 card trick and gold ring tricks which are all to be avoided, more information can be found here. Alcohol and drugs can lead to you being less alert, less in control and less aware of your environment. If you're going to drink, know your limit and take sensible precautions such as not becoming separated from friends.
And finally… Remember your European Health Insurance Card (EHIC) but also take out travel insurance, even if you're only going for one night - it could save you a lot of money if you lose anything or end up in hospital (ask your friends too please – while you're obviously very sensible, are they?)
If things go wrong and you need consular assistance, call us on +33 1 44 51 31 00.
The British Embassy in France wishes Scotland all the best for Saturday's match – Allez L'Ecosse!
Published 6 February 2015