Press release
Foreign Secretary's comments to the media about Germanwings flight
The Foreign Secretary spoke to the media this morning about British nationals involved in the Germanwings plane crash in the French Alps.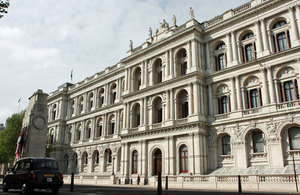 The Foreign Secretary Philip Hammond said:
We currently believe that three British people have been killed in this tragedy, but we can't rule out the possibility that there are further British people involved. The level of information on the flight manifest doesn't allow us to rule out that possibility until we've completed some further checks.

We are in contact with the families of those known to have been killed, we're also in contact with the French, German and Spanish authorities and once we have a clearer picture we'll make a further announcement.
Question – Is there any thought in gov about checking safety of Airbus A320?
Answer – "It is a very widely used aircraft, of course it has a very good safety record and the normal aviation safety authorities will be looking at the facts of this case and they and the Department for Transport will take any action necessary."
Further information
Follow the Foreign Secretary on twitter @PHammondMP
Follow the Foreign Office on twitter @foreignoffice
Follow the Foreign Office on facebook and Google+
Published 25 March 2015