News story
Foreign Secretary William Hague on the situation in Egypt
Foreign Secretary William Hague condemns violence and underlines the Government's support for the Egyptian people.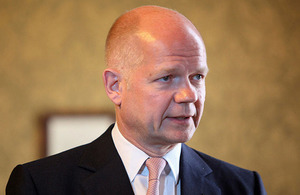 In an interview yesterday, 19 August, the Foreign Secretary underlined the importance of maintaining dialogue with the Egyptian Government as part of the UK's effort to promote democratic institutions and political dialogue and to support the people of Egypt whilst condemning violence. He said:
We're very clear to them that we completely disapprove of and condemn the killing of protesters, just as we also condemn the actions of some opposed to the Government in attacking hospitals, in killing police and attacking churches. That will not win the support of the world either.
During the interview the Foreign Secretary also said:
We have to do our best to promote democratic institutions, to promote political dialogue and to keep faith with the majority of Egyptians who just want a free and stable and prosperous country.
In Britain so far we have suspended projects with the Egyptian security forces, we have revoked a number of export licences. I think then among the European countries we should review together how we try to aid Egypt, what aid and assistance we give to Egypt in the future.
We should be available to assist in the future, recognising that it is Egyptians ultimately who determine their own future.
Further information
Visit the FCO travel advice page for Egypt
Read about the Foreign Secretary's telephone call with the Egyptian Foreign Minister
Read the Foreign Secretary's statement expressing deep concerned over the violence in Egypt
Follow the Foreign Office on twitter @foreignoffice
Follow the Foreign Office on facebook and Google+
Published 20 August 2013