Press release
Foreign Secretary speaks to Egyptian Foreign Minister
Foreign Secretary William Hague calls for end to violence and a return to dialogue in Egypt.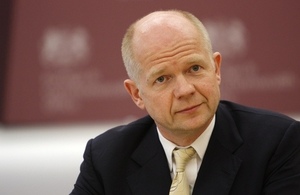 Following a telephone call between the Foreign Secretary and the Egyptian Foreign Minister this evening, a Foreign Office spokesperson said:
The Foreign Secretary and the Egyptian Foreign Minister spoke about the tragic violence and loss of life over recent days. The Foreign Secretary emphasised UK condemnation of all acts of violence, whether disproportionate use of force by the security forces or violent actions by some demonstrators. They also discussed the recent attacks on places of worship and the Foreign Secretary stressed that attacks on mosques and churches were unacceptable and that places of worship must be protected.

The Foreign Secretary noted the Egyptian government's stated commitment to the political roadmap published on 4 July, based on dialogue between all parties who accepted peaceful political processes. He underlined the need for urgent steps by all sides to end the violence and enable a return to dialogue. The Foreign Secretary also emphasised the EU's collective determination to support a peaceful resolution of the situation.
Further information
Read the Foreign Secretary's 14 Aug statement expressing deep concerned over the violence in Egypt
Visit the FCO travel advice page for Egypt
Read the FCO spokesperson comments on Egypt
Follow the Foreign Secretary on twitter @WilliamJHague
Follow the Foreign Office on twitter @foreignoffice
Follow the Foreign Office on facebook and Google+
Published 17 August 2013