Press release
Foreign Secretary welcomes UN vote to help over 1.3 million Syrians
Foreign Secretary welcomes vote to end Assad stranglehold over Syrian aid routes.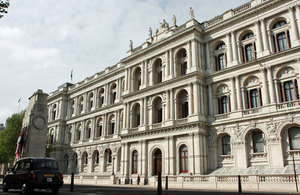 The Foreign Secretary has welcomed the unanimous vote at the United Nations Security Council to enable UN aid delivery across Syria borders, without needing the consent of the regime, which will enable immediate access to 1.3 million people in hard to reach areas. As such, it marks a major step forward in the international community's efforts to respond to the horrendous human suffering in Syria.
Speaking after the vote at the United Nations Security Council, the Foreign Secretary said:
"Assad, propped up by his regime, has enforced a stranglehold over aid routes which has deprived millions of people access to food and medicine. Access to humanitarian aid is a right, and the denial of aid to starving and vulnerable people is a crime.
"This Resolution is aimed at breaking the regime's stranglehold on aid supplies. It authorises the UN to use 4 additional border crossings to deliver humanitarian aid into some of the hardest to reach areas. It is the first Resolution of its kind, and I welcome the fact that all members of the Security Council have given it their support.
"Many vulnerable communities remain completely besieged because of the regime's starve or surrender tactics. So this process of cross-border aid delivery must start without delay."
Further information
The new Resolution seeks to build on UNSCR 2139 by giving the UN agencies, and other international aid donors, the authority to deliver aid across borders without the regime's consent. It includes, for example, the establishment of UN border monitors responsible for checking aid deliveries before they enter Syria to ensure they contain only humanitarian supplies.
The International Development Secretary announced a further £46.7million of new UK cross-border assistance on 4 July during her visit to southern Turkey, including to the Turkish-Syrian border. This brings total UK cross border humanitarian aid to £122million to date.
Follow the Foreign Secretary on twitter @WilliamJHague
Follow the Foreign Office on twitter @foreignoffice
Follow the Foreign Office on facebook and Google+
Published 14 July 2014
Last updated 14 July 2014
+ show all updates
The headline figure has been corrected to read 'Foreign Secretary welcomes vote to help over 1.3 million Syrians.' It originally read '4 million.'
First published.