Foreign Secretary welcomes UN human rights resolutions on Iran, DPRK and Burma
The UN General Assembly today voted in favour of the three human rights resolutions by a record majority of votes.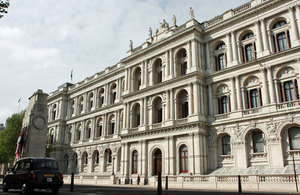 Speaking today, Foreign Secretary William Hague said:
"The UN General Assembly has made a valuable contribution to human rights today, by drawing attention to three countries where serious abuses still take place and urging their governments to take action.
"This year we have seen encouraging signs of progress in Burma. But human rights abuses continue, especially in ethnic areas, and the level of support for this resolution shows once again that the international community has not forgotten the people of Burma. I am pleased to see a resolution which reflects the positive steps taken by the Burmese government, the commitments made by the President, as well as the serious concerns which remain and the need for accountability for human rights abuses past and present.
"By contrast, the human rights situation in Iran has deteriorated even further this year. The rate of executions remains the highest per capita of any country in the world, and the continuing crackdown on fundamental freedoms has seen opposition leaders detained, over forty bloggers and journalists in prison, and hundreds of peaceful protesters arrested. Meanwhile Iran has shown scant evidence of cooperation with the UN to improve its human rights record. I call on Iran to pay heed to the international community's concerns and meet its obligations. The fact that this resolution passed by a record majority shows the international community is strongly united in its condemnation of human rights abuses in Iran.
"The human rights situation in the DPRK is also of grave concern. Despite considerable encouragement from the international community, the DPRK has refused to give any clear response to the recommendations of the UN Human Rights Council Universal Periodic Review or engage with the UN Special Rapporteurs to allow any independent verification. We support the General Assembly's resolution and continue to urge the DPRK to engage with the international community on human rights.
"Recent events in the Middle East have shown the important human rights advances that can accompany peaceful change. This is why it is vital that we maintain persistent international pressure wherever human rights abuses occur. The UN General Assembly passed these three resolutions by a record majority today, and I welcome the strong signal that sends."
Published 21 November 2011