Foreign Secretary welcomes UN condemnation of Syrian regime's abuses
Foreign Secretary William Hague was welcomed the passage of a UK drafted human rights resolution in the UN General Assembly's Third Committee on the repression in Syria.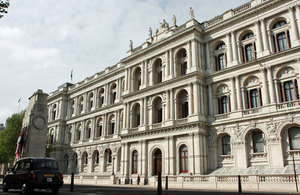 Speaking today the Foreign Secretary said:
"Today's UNGA resolution sends a signal of united condemnation of the Syrian regime's systematic human rights abuses.
"I welcome the wide support it received, including the fact that it was co-sponsored by Jordan, Morocco, Saudi Arabia, Kuwait, Qatar, Bahrain and Turkey.
"It calls on the Syrian government to end the appalling violence and implement the Arab League's plan of action without delay.
"As long as the crisis in Syria continues the international pressure on the Assad regime will only intensify."
Published 22 November 2011