Foreign Secretary welcomes tough EU sanctions on Iran
Foreign Secretary William Hague has spoken after a new round of EU sanctions on Iran were agreed by Foreign Ministers in Brussels.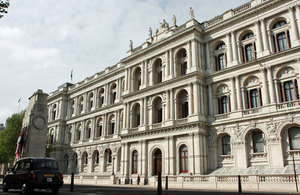 Commenting on the sanctions, the Foreign Secretary said:
"Today the EU has brought into force unprecedented sanctions against Iran, including an oil ban and freeze of assets held by the Central Bank of Iran. The message is clear. Iran cannot ignore the international community and should be in no doubt that we will ratchet up the pressure until it chooses a different path. I hope that Iran demonstrates it is willing to do so when it resumes talks with the E3+3 next month.
"Today the EU also agreed important measures to address the appalling human rights situation in Iran. I welcome the designation of prominent members of the judiciary and government, including some of the architects of repression, and the recognition that the Basij militia has been responsible for grave violations over many years. All those in Iran who continue to perpetrate human rights abuses should recognise that we will not tolerate impunity, nor stand idly by as the Iranian people's rights are abused.
"We have also further tightened controls to prevent any export of dual-use technical equipment and software that the Iranian regime might use to intercept or monitor communications. The Iranian people should be able to communicate freely instead of being denied their legitimate right to information. I call on Iran once again to meet its human rights obligations to its people."
Published 23 March 2012