Press release
Foreign Secretary welcomes Serbia and Kosovo's EU Progress
Foreign Secretary William Hague has welcomed today's decisions to open EU accession negotiations with Serbia and to open EU Stabilisation and Association Agreement negotiations with Kosovo.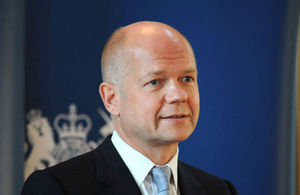 The Foreign Secretary said:
The UK remains a strong supporter of EU enlargement. These decisions are an important moment in this process, representing significant steps forward for both Serbia and Kosovo on their respective EU paths.
I offer my warm congratulations to Serbia following the EU's decision to open accession negotiations. This decision reflects the determination with which Serbia has worked towards a visible and sustainable improvement in relations with Kosovo, notably through the agreement of 19 April. This is an historic agreement and will require the full and consistent implementation by both sides. The negotiating process, with further deepening of domestic reforms and promotion of regional relations, will bring benefits to the people of Serbia, the Western Balkans, and the countries of the EU. We remain ready to support Serbia through this process.
I also offer my warm congratulations to Kosovo on the launch of negotiations for a Stabilisation and Association Agreement (SAA). This will be the first high-level agreement between Kosovo and the EU. As the first milestone on the road to EU membership, this sends an important signal that Kosovo's future is European. I hope that Kosovo will be able to implement swiftly the necessary further reforms to conclude the SAA negotiations.
These achievements are testament to the strong progress both countries have made on normalising relations, under the stewardship of Baroness Ashton in the EU-facilitated dialogue. I urge both Prime Ministers Thaci and Dacic to remain constructively engaged in this process in order to continue on their EU paths and help deliver a stable and prosperous future for their citizens.
Further information
Follow the Foreign Secretary on twitter @WilliamJHague
Follow the Foreign Office on twitter @foreignoffice
Follow the Foreign Office on facebook and Google+
Subscribe to the announcements feed or email alerts to get our latest news and announcements
Published 28 June 2013