Press release
Foreign Secretary welcomes new President of Syrian National Coalition
William Hague welcomes Hadi al-Bahra's election as National Coalition President & reiterates support for moderate opposition.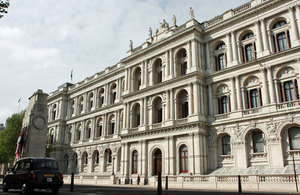 Speaking about the election of a new President of the National Coalition in Syria, Foreign Secretary William Hague said:
I welcome the election of Hadi al-Bahra as the new President of the Syrian National Coalition. The violence ISIL has been inflicting in Iraq and Syria powerfully demonstrates the need to support the Syrian opposition, who are defending themselves against dictatorship and extremism and who aspire to democracy and pluralism. There can be no peaceful settlement in Syria if the Syrian people are left only with a choice between a brutal regime on the one side and terrorists on the other. The UK will continue to work closely with President al-Bahra and others in the National Coalition and Interim Government to help achieve their aspirations for a democratic Syria. As I announced in May, the UK will provide £30 million this financial year in practical support to help the opposition and bolster regional security, in addition to our £600 million humanitarian contribution.

I pay tribute to the leadership of outgoing President al-Jarba at the Geneva II negotiations earlier this year, where the Syrian opposition showed itself able to stand up for a political solution and to rally support for its pluralist and democratic vision of Syria's future.
Further information
Follow the Foreign Secretary on twitter @WilliamJHague
Follow the Foreign Office on twitter @foreignoffice
Follow the Foreign Office on facebook and Google+
Published 9 July 2014