Press release
Foreign Secretary welcomes judgement against former Liberian leader
Foreign Secretary welcomes the judgement of the Special Court for Sierra Leone in the case against Charles Taylor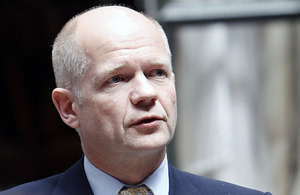 The Foreign Secretary said:
I welcome the Special Court's judgement today in the case against Charles Taylor. It sends a strong message that those in positions of power who commit atrocities, including former heads of state, can and will be made to answer for their actions. The conviction is also a victory in the fight against impunity for sexual violence, as the judges emphasised Taylor's responsibility for horrific crimes of rape and sexual enslavement used to terrorise the people of Sierra Leone. I pay tribute to the courage of the witnesses, whose testimony was crucial to ensuring justice was served. No verdict can undo the pain and suffering the victims and their families have endured, but I hope they take some comfort in the fact that a line can now be definitively drawn under that period of Sierra Leone's history.

This verdict marks the successful conclusion of the Special Court for Sierra Leone, which is the first international court to complete its mandate. This is a remarkable achievement, and I commend the legal teams and staff of the Court for their tireless and dedicated work over the last 10 years. I am proud that the United Kingdom has been the second largest bilateral donor to the Special Court over its lifetime.

I urge other states to consider making voluntary contributions to the Residual Special Court for Sierra Leone, which will now take on the essential remaining work, including witness protection and managing the sentences of the convicted. The UK will continue to support this vital work, and the people and government of Sierra Leone as they build a peaceful and secure future for their country.
Further information
Follow the Foreign Office on twitter @ForeignOffice
Follow the Foreign Office Travel Advice on twitter @FCOtravel
Follow the Foreign Office on facebook and Google+
Published 26 September 2013
Last updated 26 September 2013
+ show all updates
Statement added
Content being updated
First published.