Foreign Secretary welcomes "important relationship" between UK and Poland
Foreign Secretary William Hague and Defence Minister Philip Hammond met their Polish counterparts in Warsaw on 19 September.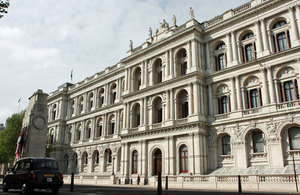 The British Ministers discussed a range of issues of mutual importance to our two countries with Poland's Foreign Minister Rados?aw Sikorski and Defence Minister Tomasz Siemoniak.
Following the meeting, the Foreign Secretary said:
"It is a huge pleasure to be in Poland again. The United Kingdom and Poland share an important relationship. We are close allies within the EU and NATO and share a similar outlook on many international issues. Today we had a valuable discussion on issues which matter to both our countries. Of course the situation in Syria was foremost in our minds. Britain and Poland stand together with the Syrian people as they face a shocking humanitarian situation brought about by the violence of the Assad regime. We also discussed a wide range of other topics including NATO, European defence and bilateral defence cooperation.
"This morning we also discussed Europe's Eastern Neighbourhood. The United Kingdom will continue to support the Eastern Partnership and I would like to pay tribute to Minister Radek Sikorski for his efforts in encouraging the EU to reach out to our Eastern neighbours.
"The Eastern Partnership has the potential to transform the EU's relationship with our eastern partners and with it the prospect of meaningful integration. Any such integration relies on a genuine commitment by all parties to a set of common values. These common values must be the foundation stone of the Eastern Partnership, just as they are for the EU.
"We want to offer strong support to our partners to carry out reforms and will help them to succeed; but there can be no backsliding on democracy. In this respect, the Ukrainian and Georgian Parliamentary elections in October will be of paramount importance.
"On Belarus, we call - once more - for the release and rehabilitation of all political detainees as a first step towards the normalisation of relations. We hope that this weekend's parliamentary elections will be conducted to international standards, and that there will no repeat of the violence against peaceful protesters that marred the 2012 Presidential elections.
"We also discussed many other issues including economic growth, the single market and increasing trade."
Foreign & Defence Secretaries visit Warsaw
The Foreign Secretary attended a commercial diplomacy event in the British Embassy. The event was planned as an exhibition of UK strategic competency and live exhibits which are available in Poland and the broader region, showcasing the UK experience in energy sector power generation and engineering, and the potential of Poland as the leading market in Emerging Europe.
Quadrilateral meeting: statements
Top British automotive and construction engineering brands, including Aston Martin, Jaguar, Land Rover, Lotus and JCB, were on display in the Embassy garden. The visit of the Foreign and Defence Secretaries concluded with a meeting with Poland's President Bronis?aw Komorowski. It was an excellent opportunity to build on the ministerial discussions held earlier in the day.
This was the second quadrilateral meeting between the UK and Poland on diplomacy and defence issues. The first one had been held in London in October 2010.
Published 19 September 2012