Foreign Secretary welcomes Human Rights Watch report on Syria
Foreign Secretary William Hague has said that the UK will continue to focus attention on what is happening in Syria and work to bring an end to the violence.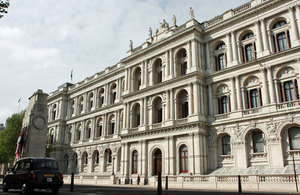 Commenting on the Human Rights Watch report "Syria: Torture Centers Revealed", the Foreign Secretary William Hague said:
"I welcome today's report by Human Rights Watch on the situation in Syria. It highlights the horror of what is happening. The scale of the barbaric acts that are being carried out by the regime against the population is appalling.
This Human Rights Watch report should act as a clear warning. There should be no impunity or hiding place for those committing these crimes. Those responsible for systematic and widespread human rights violations should not delude themselves: we and our international partners will do everything we can to ensure that they will face justice. Where we have evidence of individuals' responsibility for acts of violence and repression, the UK will work with EU partners to impose sanctions on them. We will continue to focus attention on what is happening in Syria and work to bring an end to the violence"
Published 3 July 2012