Foreign Secretary welcomes historic talks between Somaliland and Transitional Federal Government of Somalia
Foreign Secretary William Hague: "I congratulate the Somali Transitional Federal Government and Somaliland representatives on agreeing the Chevening House Declaration yesterday."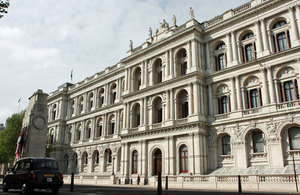 Representatives of Somaliland and the Transitional Federal Government of Somalia met at Chevening House on 20-21 June. The purpose of the talks, the first of their kind, was to establish a framework for future substantive talks. At the request of both parties the meeting was facilitated by the UK government, along with the EU and Norway.
Following the meeting the Foreign Secretary William Hague said:
"I congratulate the Somali Transitional Federal Government and Somaliland representatives on agreeing the Chevening House Declaration yesterday. We hope this will be a landmark in the process of clarifying their future relations and achieving peace, security and stability in the region. I congratulate both sides on their willingness to continue the talks and to cooperate on areas of common interest. I am pleased that the UK, along with Norway and the EU, was able to build on commitments at the London and Istanbul Conferences on Somalia to support dialogue by facilitating these talks. Britain will work with international partners to support their efforts as they continue this important and historic dialogue."
Published 22 June 2012