Press release
Foreign Secretary welcomes further EU sanctions on Syria
Foreign Secretary welcomes EU's agreement on further Syria sanctions on Assad supporters.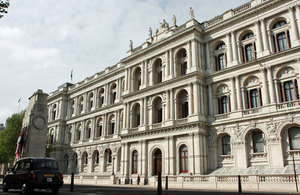 Speaking after EU Foreign Ministers agreed further Syria sanctions at today's Foreign Affairs Council, the Foreign Secretary Philip Hammond said:
"I welcome agreement by the EU to sanction 18 individuals and entities connected to the Syrian regime. These include several individuals and companies supplying the regime with oil. We also agreed to the listing of a notorious regime military commander who ordered Sarin attacks that killed hundreds of innocent civilians in Syria. By doing this, the EU has sent a clear message to the Syrian regime and those who keep Assad in power: your actions will not go unchallenged.
"A ban on jet fuel exports to Syria has been agreed in principle. This will make it harder for the regime to continue its indiscriminate aerial bombardments, including chemical weapons attacks and the use of barrel bombs against its own people. We must do everything we can to stop this now.
"The cause of instability and conflict in Syria is Assad, and sanctions are a key part of our strategy for weakening the regime and limiting its ability to perpetrate more barbaric acts against the Syrian people."
Further information
Follow the Foreign Secretary on Twitter: @PHammondMP.
Follow the Foreign Office on Twitter.
Follow the Foreign Office on Facebook & Google+.
Published 20 October 2014