News story
Foreign Secretary welcomes decision to suspend Libya from the Human Rights Council
The UN General Assembly adopted a Lebanese-tabled resolution suspending Libya from the Human Rights Council on 1 March.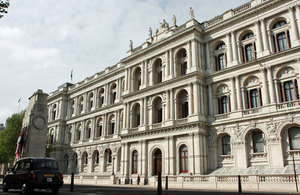 Speaking today, Foreign Secretary William Hague said:
"I strongly welcome the UN General Assembly's resolution to suspend Libya from the Human Rights Council. This outcome, which the UK has pressed for with partners, demonstrates the unity of the international community and its commitment to hold the Libyan regime accountable.
"Libya's suspension from the Council is unprecedented. But it is absolutely right that a regime that has failed so shamefully in its responsibility to its people and that has been referred to the Prosecutor of the International Criminal Court should not be allowed to continue to enjoy the rights of membership.
"Suspension from the Council puts yet more pressure on the Libyan regime to listen to the clear message of the international community; crimes will not go unpunished and will not be forgotten; there will be a day of reckoning and the reach of international justice is long."
This is the first time that a Member State has been suspended from the Council. It reflects the behaviour of the Libyan government, in blatant violation of its international obligations. It has ordered indiscriminate armed attacks against its own citizens. It has been condemned by the international community and referred to the Prosecutor of the International Criminal Court. The resolution was tabled by Lebanon, co-sponsored by over fifty countries from across the world including South Africa, Botswana, Jordan, Qatar and Nigeria.
Published 1 March 2011