News story
Foreign Secretary welcomes Bosco Ntaganda's transfer to ICC
Foreign Secretary says transfer of ICC indictee Bosco Ntaganda to The Hague marks hugely significant day for victims of conflict in region.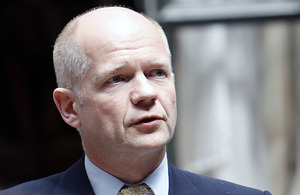 Following confirmation that the International Criminal Court indictee Bosco Ntaganda has now left the US Embassy in Kigali and is being escorted to The Hague by ICC officials, the Foreign Secretary, William Hague, said:
I am pleased to hear today that Bosco Ntaganda is on his way to The Hague. This is a hugely significant day for victims of conflict in the region. I hope it will contribute to a resolution of the problems in the eastern DRC along with determined efforts to implement wider peace agreements. I welcome the cooperation of the Rwandan government and all those who have enabled this transfer to take place. Britain is fully committed to supporting and cooperating with the International Criminal Court.
Further Information
Read the Foreign Secretary's previous statement on Bosco Ntaganda
Find out more about the ICC and the case of Bosco Ntaganda on the ICC website
Published 22 March 2013