News story
Foreign Secretary supports transfer of Bosco Ntaganda to ICC
ICC indictee Bosco Ntaganda surrendered himself to the US Embassy in Kigali yesterday and has asked to be transferred to The Hague.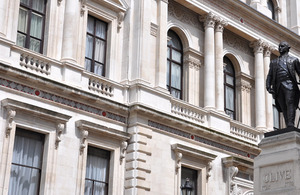 Speaking today, the Foreign Secretary, William Hague, said:
I welcome the news that Bosco Ntaganda has handed himself in to the US Embassy in Kigali with the intention of being sent to the International Criminal Court (ICC) in The Hague. Ntaganda is accused of perpetrating terrible war crimes in eastern Congo, including the use of rape and sexual slavery. I fully support the intention for him to be transferred to the ICC to face trial. I urge all to co-operate in facilitating this transfer as quickly as possible.
The UK is committed to combating and preventing sexual violence in conflict, and this is why last year I started my initiative on Preventing Sexual Violence. Justice is a prerequisite for conflict resolution and peace building. Ending impunity for those who commit such crimes is fundamental to deterring them from occurring in the future and allowing victims and communities to seek justice and peace. I believe the transfer of Ntaganda to the ICC will act as a deterrent to armed groups still operating in Democratic Republic of the Congo and elsewhere, who use violence, particularly sexual violence, as a tactic of war.
Further Information
Read more about the UK's Preventing Sexual Violence Initiative
Find out more about the ICC and the case of Bosco Ntaganda on the ICC website
Published 19 March 2013