Press release
Foreign Secretary welcomes BiH adoption of Reform Agenda
Foreign Secretary welcomes agreement of ambitious package of reforms by governments of Bosnia & Herzegovina, as part of an EU initiative.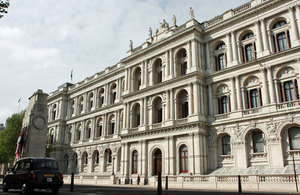 The Foreign Secretary has welcomed the adoption of an ambitious package of reforms in Bosnia and Herzegovina, as part of an EU initiative to inject momentum into the country's EU accession path. The Reform Agenda addresses financial stability, labour market reform, social welfare and pension reform, public administration reform, and improvements in the rule of law and good governance.
The Foreign Secretary Philip Hammond said:
The adoption of the Reform Agenda is a landmark step. The proposed reforms will help to stabilise the economy and encourage much-needed economic development, allowing Bosnia and Herzegovina to advance on its chosen path towards membership of the EU.

The agreed reforms are undoubtedly challenging, but are necessary to address citizens' desire for jobs and growth. The Reform Agenda follows directly from the Written Commitment which was signed by 14 party leaders in February and then endorsed unanimously in the Parliament of Bosnia and Herzegovina.

It is now vital that all parties to the Written Commitment support the implementation of reforms for Bosnia and Herzegovina to move forward on its EU accession path.
Further information
Published 29 July 2015