Press release
Foreign Secretary welcomes announcement of UN investigation team on Sri Lanka
The Foreign Secretary, William Hague, has welcomed the appointment of a team of experts to investigate alleged abuses in Sri Lanka.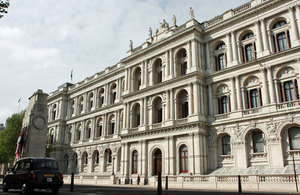 A statement by the UN Commissioner, made on 25 June, announces the appointment of international experts to the team investigating alleged abuses by both parties to the armed conflict in Sri Lanka. It also urges the Sri Lankan government to cooperate with the investigation.
The Foreign Secretary said:
I welcome Navi Pillay's announcement on the appointment of experts to the Sri Lanka investigation established by the March Human Rights Council. The UK has always supported calls for this investigation and played a key role in securing it.

This investigation is an important step in establishing the truth and facilitating reconciliation within Sri Lanka. The inclusion of Martti Artisaahri, Silvia Cartwright and Asma Jahangir completes a strong team with a clear mandate from the UN Human Rights Council.

I strongly urge the government of Sri Lanka to cooperate fully with the Office of the High Commissioner and this investigation and to ensure those engaging with the investigation can do so without fear of intimidation or reprisals.

I also continue to urge the government of Sri Lanka to take meaningful, concrete steps to implement fully the actions called for in the March 2014 Human Rights Council resolution on Sri Lanka, the recommendations of its Lessons Learnt and Reconciliation Commission (LLRC) and to address fully concerns related to political settlement, reconciliation, justice and accountability, both present day and from the period of the armed conflict. As ever, the British Government stands ready to assist Sri Lanka in facilitating progress on these issues.
Further information
Follow the Foreign Secretary on twitter @WilliamJHague
Follow the Foreign Office on twitter @foreignoffice
Follow the Foreign Office on facebook and Google+
Published 26 June 2014