Press release
Foreign Secretary visits Moldova, Ukraine and Georgia
The Foreign Secretary today arrived in Moldova at the beginning of a regional tour that includes Ukraine and Georgia.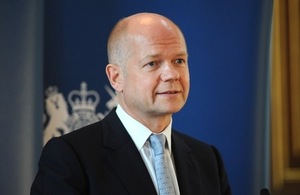 The Foreign Secretary, William Hague, said:
I am visiting Moldova, Ukraine and Georgia this week to show our support for these independent democratic nations. In addition I shall attend a Council of Europe meeting in Vienna which will discuss the situation in Ukraine.

Moldova, Ukraine and Georgia have all made great efforts to build free societies and they deserve our backing. In each case, they need to carry out substantial reforms to ensure the rule of law and sustainable economic development, especially in tackling corruption.

Clearly Ukraine is under immense pressure from Russian attempts to destabilise the country, provoke violence and, it seems, prevent elections happening later this month.

The Ukrainian people want what people everywhere want: to live in a free country where the law applies fairly to everyone, a Ukraine where people have a chance to build decent lives for themselves rather than have their economy looted by corruption. We stand with them in their efforts to create a better Ukraine. I will urge the Ukrainian government to carry forward much-needed reform, and assure them of practical help from Britain. I will discuss Ukraine's plan for elections on 25 May, and meet three leading Presidential candidates to hear their views on how best to ensure Ukraine's long-term future as a successful, independent, united, and sovereign nation.
Further information
Follow the Foreign Secretary on twitter @WilliamJHague
Follow the Foreign Office on twitter @foreignoffice
Follow the Foreign Office on facebook and Google+
Published 5 May 2014