Foreign Secretary visits Mauritania
Foreign Secretary William Hague says UK looking at ways of helping Mauritania on political reform, good governance and human rights.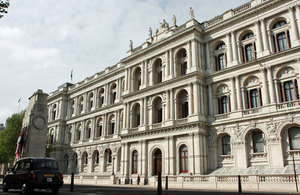 Speaking at the end of his visit to Mauritania, Foreign Secretary William Hague said:
"It is a pleasure to visit Mauritania. This is the first visit ever by a British Foreign Secretary. It is a sign of our interest in a closer partnership with Mauritania over the coming years, and of Mauritania's growing role in regional issues, as well as foreign policy as a whole.
"We wish to engage with Mauritania as serious partners in security and foreign policy. Mauritania is in the frontline of the growing security threat from Al Qaeda in the Islamic Maghreb, and is an important partner for discussions on Libya, Cote d'Ivoire and wider African issues."
"But the purpose of my visit was not just to discuss security. We are looking at ways we can help Mauritania on political reform, good governance and human rights, all of which are essential to Mauritania's future development. I discussed the potential for UK support through our Arab Partnership Initiative, which offers practical expertise and funding to strengthen political participation, civil society and other building blocks of open democratic societies. The lesson of the Arab Spring is that demands for political freedom and economic development will grow, and we wish to help our partners who are seeking to meet the aspirations of their people."
"I also discussed the potential for an expanded economic relationship between Britain and Mauritania, as well as our support for greater trade between Europe and the Maghreb and the countries of the region themselves. This could transform the economic prospects of Mauritania and its neighbours, and underpins democratic development.
"For all these reasons this was an important and landmark visit and we look forward to building on the cooperation we have established today. As a sign of this we are delighted that Mauritania has expressed its intention to reopen an Embassy in London."
Published 18 October 2011