Foreign Secretary visits Asia
Foreign Secretary William Hague is visiting China and Japan from 14-16 July.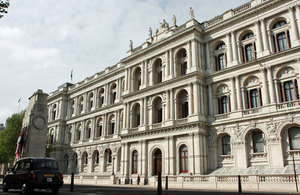 Foreign Secretary William Hague has arrived in Japan, where he is meeting with Prime Minister Kan and Foreign Minister Okada, along with Japanese decision-makers in government and business, to emphasise the importance of Japan to the UK. He has also delivered the second in his series of four major foreign policy speeches, with the focus on the global economy.
The Foreign Secretary has been taking questions on UK / Asia relations from the public on Twitter. You can see his answers below or by following his twitter feed**@WilliamJHague. To ask your own question use ****the hashtag #fsinasia.**
Earlier this week he visited China as part of his first trip to the Far East as Foreign Secretary. In Beijing he held meetings with Foreign Minister Yang, Premier Wen and State Councillor Dai to demonstrate the Government's commitment to deepening the relationship with China. He also heard from British business representatives about the opportunities and risks presented by the China market.
The Foreign Secretary aims to demonstrate the new British Government's commitment to deepening it's relationship with China, investing in a meaningful relationship on key policy areas with senior Chinese policy-makers, and participating in the Strategic Dialogue with State Counsellor Dai. He said:
"I see the UK and China as partners for growth. We are both beneficiaries from globalisation and have a shared interest in ensuring the benefits from it continue. Our two economies are clearly complementary. UK companies are ideally placed to contribute to China's future economic development - they have the goods and services, experience and skills to match China's ambition to restructure, and to head up the value chain."
**If you would like to ask the Foreign Secretary a question about UK/Asia post your questions to @WilliamJHague using the hashtag #fsinasia. You can see his answers by either following his twitter feed or by viewing this page. **
You can follow the visit on the UKinChina and UKinJapan websites, and on the @UKinChina and @UKinJapan twitter feeds.
Search the news archive
Published 15 July 2010