News story
Foreign Secretary visit to France
The Foreign Secretary, Boris Johnson, visited Paris to meet French Foreign Minister Ayrault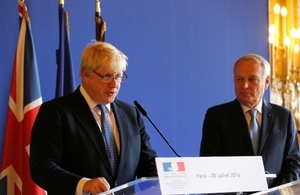 On Thursday 28 July the Foreign Secretary, Boris Johnson, visited Paris to meet French Foreign Minister Ayrault. Their discussion focused on the strong bilateral relationship and cooperation on defence, counter-terrorism, Daesh, Libya, Syria and Nigeria.
In a press conference afterwards, the Foreign Secretary Boris Johnson said:
I'm pleased to be here in France today. This is my first bilateral European visit as the UK's Foreign Secretary. Our two nations have a unique relationship going back many centuries, and at this moment the relationship becomes even more important.

I want to express my gratitude to Jean-Marc for welcoming me to Paris at such a difficult moment for his nation. The UK stands in solidarity with France. The threats we face are the same and we use the same values to reply to it. We will continue to do so.

Today, we discussed our co-operation across this and many different areas.

Mr Ayrault and I agreed Daesh poses a direct threat to both our countries, as we have seen this week. We are clear that Daesh does not represent Islam. With France the UK is playing a leading role in the Global Coalition committed to defeating them, and we will win.

In Libya we are continuing to support the Government of National Accord and they are making progress. And in Syria, France and the UK will continue to work through international forums to find a political solution and a continuation of the Cessation of Hostilities.

I was pleased to advise Jean-Marc that the UK also remains committed to supporting Nigeria and its neighbours in this fight against Boko Haram. We are providing intelligence, military and development support, including training and advice for Nigerian armed forces and £32m over the next three years in humanitarian support.

Our relationship is also about those issues close to home, including management of our common border. We share a commitment to Le Touquet agreement and I strongly welcome our close cooperation.

I hope I have been clear that, while the UK has voted to leave the EU, we are not leaving Europe. We will want to be closer than ever to our allies, especially France, in the years to come.

I'd like to take this opportunity to thank Mr Ayrault again. We have already started to develop a close, co-operative relationship and long may that continue while we face many challenges ahead, together, as friends and allies.
Further information
Published 28 July 2016