Press release
Foreign Secretary video message to mark Nowruz
William Hague sends his best wishes to those celebrating Nowruz and underlines the UK's commitment to improving relations with Iran.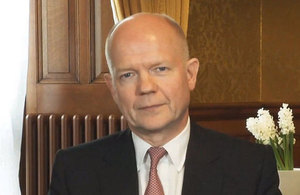 In a video message released today on the eve of Nowruz, Foreign Secretary William Hague said:
I want to take this opportunity to wish all those celebrating around the world a happy Nowruz.
Today people from many countries, communities and backgrounds, including here in the UK, will be gathering with their loved ones to celebrate the New Year and mark the start of spring.
Nowruz signifies a new season and a time of harmony. It is an opportunity to look back on the year that has passed and look ahead to the year to come.
So, however and wherever you are celebrating the New Year, I wish you health and happiness for the future.
Nowruz is also a time for fresh starts. And in that spirit, I want to say to the Iranian people that the UK looks forward this year to improving relations with Iran.
This is something our two governments have been working on over the last few months. Our diplomats are visiting each other's countries after a gap of nearly two years.
We are establishing new relationships and we're talking to each other about a range of matters important to both our countries.
Of course, this doesn't mean we have resolved all our differences. We haven't. There remain many pressing issues for us to address. But I firmly believe that constructive dialogue and improved co-operation between the UK and Iran is in all our interests.
For that reason, we will continue our efforts to improve relations in ways that bring concrete benefits to both our peoples.
Nowruzetan piruz.
Foreign Secretary William Hague Nowruz Message
Further information
Follow the Foreign Secretary on Facebook and on Twitter: @WilliamJHague.
Follow the Foreign Office on Twitter.
Follow the Foreign Office on Facebook & Google+.
Published 19 March 2014
Last updated 20 March 2014
+ show all updates
Added translation
First published.