Press release
Foreign Secretary urges China to keep up pressure on North Korea
The Foreign Secretary urges China to keep up pressure on North Korea during a meeting with the Chinese Foreign Minister in New York.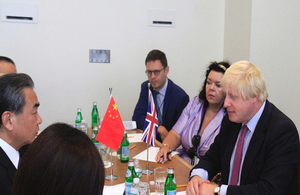 Foreign Secretary Boris Johnson has urged China to keep up the pressure on North Korea when he met with Chinese Foreign Minister Wang Yi in New York.
The Foreign Secretary also met with Japanese Foreign Minister Tarō Kōno and reiterated the UK's solidarity with Japan over the threat it faces from North Korea.
Speaking after the meetings the Foreign Secretary said:
China has a vital role to play and unique economic influence over North Korea. It controls more than 90 per cent of North Korea's external trade, including its oil supplies, making them perfectly placed to put the kind of pressure on Kim Jong-Un that will make him take notice.
As the Prime Minister said during her recent visit to Japan, the UK stands shoulder to shoulder with them in the face of North Korean aggression.
Last week the harshest UN sanctions placed on any nation in the 21st century were imposed on North Korea. They must now be enforced.
The Foreign Secretary is in New York for the United Nations General Assembly (UNGA) meetings. As well as conducting a series of bilateral meetings he also co-hosted an event on reform of the Human Rights Council alongside Nikki Haley, the US permanent representative to the UN and Dutch Foreign Minister Bert Koenders.
Published 19 September 2017