Press release
Foreign Secretary urges allies to commmit to Yemen peace process
The Foreign Secretary Jeremy Hunt has urged the members of the Quad group to make every effort to advance the UN-led peace process for Yemen at a meeting during the United Nations General Assembly (UNGA)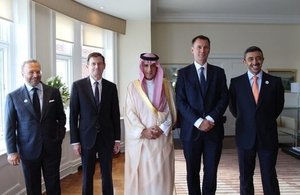 During a meeting in New York with his US, Saudi and Emirati counterparts, the Foreign Secretary urged those present to seize the opportunity for political progress. The group underlined their complete support for the UN process led by Special Envoy Martin Griffiths.
The group also discussed the destabilising effect of Iran on Yemen and the wider region, and how to put in place confidence-building measures following the breakdown of the Geneva peace talks.
In the context of a rapidly deteriorating humanitarian situation, the Quad members discussed how they could provide greater assistance to the Yemeni people by facilitating the entry of humanitarian and commercial goods into Yemen.
Further information
Published 27 September 2018