News story
Foreign Secretary update on nuclear talks with Iran
Foreign Secretary William Hague has given an update on progress at the talks with Iran on its nuclear policy in Geneva.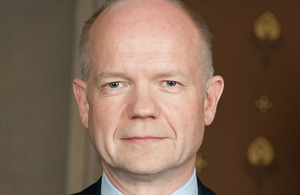 Representatives from the UK, US, Russia, France, China and Germany are in Geneva with counterparts from Iran to take part in negotiations over its future use of nuclear technology.
The Foreign Secretary said:
These are very important negotiations, as everybody here knows that the Iranian nuclear program is one of the biggest threats to the instability of the Middle East and in world affairs.

The Foreign Ministers have come to support these negotiations and to be able to confer together easily and quickly, and make fresh decisions of any kind. We're not here because things are necessarily finished. There are narrow gaps, but they are important gaps. It's very important that any agreement be thorough, detailed, and comprehensive, and is a deal in which we can all have confidence.
Published 23 November 2013