Press release
Foreign Secretary to appoint non-resident Chargé d'affaires to Iran
UK and Iran agree steps to improve bilateral relations.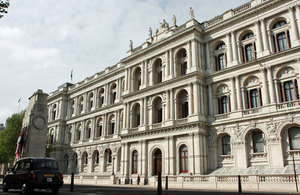 Speaking in the House of Commons, Foreign Secretary William Hague said:
"It is clear that the new President and Ministers in Iran are presenting themselves and their country in a much more positive way than in the recent past. There is no doubt that the tone of the meetings with them is different. We must test the Iranian Government's sincerity to the full, and it is important that our channels of communication are open for that.
"Mr Zarif [Iranian Foreign Minister] and I have discussed how to improve the functioning of the UK-Iran bilateral relationship. Our diplomatic relations suffered a severe setback when our Embassy compounds in Tehran were overrun in 2011 and the Vienna Convention flouted, and when the Iranian Majles voted to downgrade relations with the UK.
"It is understood on both sides that given this history, progress in our bilateral relationship needs to proceed on a step-by-step and reciprocal basis. The Foreign Minister and I agreed our officials would meet to discuss this. The first such meeting has already taken place, and will be followed by a further meeting in Geneva next week. This includes discussion of numbers of and conditions for locally-engaged staff in the Embassy premises of each country and visits to inspect these premises.
"I have made very clear to Mr Zarif that we are open to more direct contact and further improvements in our bilateral relationship. We have therefore agreed that both our countries will now appoint a non-resident Chargé d'affaires tasked with implementing the building of relations, including interim steps on the way towards eventual re-opening of both our Embassies, as well as dialogue on other issues of mutual concern."
Further information
Read the Foreign Secretary William Hague's statement in full
Visit the UK for Iranians website
Follow the Foreign Secretary on twitter @WilliamJHague
Follow the Foreign Office on twitter @foreignoffice
Follow the Foreign Office on facebook and Google+
Published 8 October 2013