News story
Foreign Secretary to answer your questions on the Ending Sexual Violence in Conflict Summit
Foreign Secretary William Hague will answer your questions via Twitter on Wednesday 21 May from 13.30 – 14.30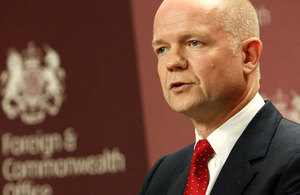 Foreign Secretary William Hague will answer your questions about the Global Summit to End Sexual Violence in Conflict via Twitter on Wednesday 21st May 2014, from 13.30 – 14.30 (BST). You can ask the Foreign Secretary questions using the hashtag #askFS and including the Foreign Secretary's twitter handle @WilliamJHague.
The Foreign Secretary will be hosting the Global Summit to End Sexual Violence in Conflict with the Special Envoy of the UN High Commissioner for Refugees, Angelina Jolie in London from 10th – 13th June at the Excel Centre. There will be free public events at the summit from 10th – 12th June, including discussions, exhibitions, cinema, performance and digital activism. You can find out more about these events here.
The Global Summit to End Sexual Violence in Conflict will be the largest event ever held on this issue, with some 140 countries and international bodies represented, as well as NGOs and members of the military, medical and legal professions from around the world. The Summit aims to agree practical action to increase prosecutions of crimes of sexual violence in conflict, support survivors and shatter the culture of impunity worldwide.
As well as taking part in the Twitter Q & A you can subscribe to email updates about the campaign, follow the latest news on Facebook and Twitter and join in the conversation online using the hashtag #timetoact.
Published 19 May 2014