Press release
Foreign Secretary statement on Yemen peace talks
Foreign Secretary urges progress as Yemen peace talks begin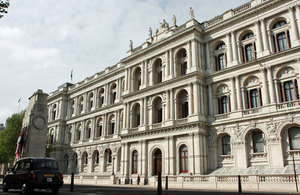 Philip Hammond has welcomed the start of UN-led Yemeni peace talks, which have started today in Kuwait.
Foreign Secretary Philip Hammond said:
Only a political solution can bring an end to the conflict in Yemen. Peace talks are an important first step on the road to a resolution, and provide the best opportunity to bring the peace and stability to Yemen that its people deserve.

I urge all those around the table to come together to find a way to end the conflict, address the humanitarian situation, and allow the return of Yemen's legitimate government.
Further information
Published 22 April 2016